Wedded to War by Jocelyn Green. Heroines Behind the Lines: Civil War #1.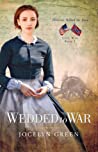 My rating: 5 of 5 stars
I finally got the chance to read the first book! I was so excited and I wasn't disappointed. I wondered how it all started. Now I know where some of the characters come from and what they went through. It all ties together. This story is amazing. I love Charlotte, she's strong, independent, and walks her own path. She doesn't want society's approval of her or her destiny. Even her "beloved" would like her to be more gentile, submissive, and a true lady of society. Yet, Charlotte has other plans. She likes to help, she likes to be part of the action even if it means leaving behind a life of luxury and ease. If you like historical fiction that has some truth to it, this is a great book to read! Happy Reading my friends.
View all my reviews – Reviews by Holly Irish
Book Summary:
A Christy Award-nominated title for best new author.
When war erupted, she gave up a life of privilege for a life of significance.
Tending to the army's sick and wounded meant leading a life her mother does not understand and giving up a handsome and approved suitor. Yet Charlotte chooses a life of service over privilege, just as her childhood friend had done when he became a military doctor. She soon discovers that she's combating more than just the rebellion by becoming a nurse.
Will the two men who love her simply stand by and watch as she fights her own battles? Or will their desire for her wage war on her desire to serve God?
Wedded to War is a work of fiction, but the story is inspired by the true life of Civil War nurse Georgeanna Woolsey. Woolsey's letters and journals, written over 150 years ago, offer a thorough look at what pioneering nurses endured. This is the first in the series Heroines Behind the Lines: Civil War, a collection of novels that highlights the crucial contributions made by women during times of war.