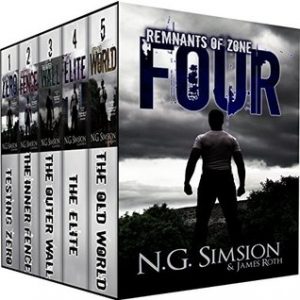 Remnants of Zone Four Chronicles Box Set by N.G. Simsion
My rating: 5 of 5 stars
I love this entire series! It's action-packed and full of twists and turns that you don't see coming. In this story, we meet Zero, Lefty, Root, and a bunch of other characters. Each of them grew up in a secluded town where they lived, worked, and didn't leave the fence line. Why? because there are Remnants from the old world. The black saliva drooling, neck biting, crazy zombies that will attack you if you leave. There is nothing left of the world before. There are only secluded cities that are run by the Elite. They don't live in the cities they live outside in their own little towns. However, when Root starts to question certain things, Lefty and Zero become curious. When Root is taken to Exile, things become more exciting. Lefty knows he has to get out of the city and Zero won't let him go alone. What follows is a nail-biting adventure that you soon won't forget. Things get turn upside down, not everything is as it seems, and the truth is revealed. What would you do if everything you were taught growing up was a lie? So go grab this book and happy reading my friends!
View all my reviews – Reviews by Holly Irish
Book Summary:
Fans of series like The Maze Runner, The Hunger Games, and Divergent will love N.G. Simsion.
Zero prefers to keep his life simple. Although he is easily one of the largest and cleverest boys in his year, he runs from any sign of confrontation. His best friend—his only friend—is nothing like him. Obsessed with the world outside of the city walls, Lefty is always pushing the boundaries set by society's Elite. It's only a matter of time before they have gone too far and they're forced to face the horrors of the "old world" on their own. Can they survive and learn to coexist with the dangerous Remnants of the old world? Are the Remnants of the old world even the worst of their problems, or do the Elite of their own society pose an even greater threat?