With 2011 book videos on their YouTube channel COS Productions has over 15 million views and nearly 10,000 subscribers to date! COS joined YouTube in March of 2006. By that time they had already created several trailers that played on author and bookseller websites as well as being picked up by media outlets.of the videos have won numerous awards through the years and COS Productions CEO, Sheila English is now a judge for the Telly Awards which recognizes excellence in video production.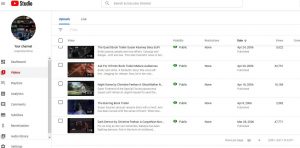 Many of the book videos have played on television or in movie theaters which had not been done before and was the catalyst to an NPR interview with Sheila English .  Other media outlets who have featured COS videos include The New York Times, Wall Street Journal, NPR, and more.
English trademarked the term "book trailer" in 2002 and was awarded the mark in 2003 which she still holds today.  COS Productions is the oldest book trailer producer in the US or UK.
A lot has changed since 2006 when the first trailer was put up on COS Productions' YouTube channel, but it's fun to look back at those first trailers from long ago.