In this charming new cozy mystery series from nationally bestselling author, Vicki Delany, a New York City expat-turned-Cape Cod tea shop owner must solve the murder of a local real estate developer to help her feisty grandmother out of a jam . . .
 
As the proud proprietor and head pastry chef of Tea by the Sea, a traditional English tearoom on the picturesque bluffs of Cape Cod, Roberts has her hands full, often literally. But nothing keeps her busier than steering her sassy grandmother, Rose, away from trouble. Rose operates the grand old Victorian B & B adjacent to Lily's tea shop . . . for now. An aggressive real estate developer, Jack Ford, is pushing hard to rezone nearby land, with an eye toward building a sprawling golf resort, which would drive Rose and Lily out of business.
 
Tempers are already steaming, but things really get sticky when Ford is found dead at the foot of Rose's property and the police think she had something to do with his dramatic demise. Lily can't let her grandmother get burned by a false murder charge. So she starts her own investigation and discovers Ford's been brewing bad blood all over town, from his jilted lover to his trophy wife to his shady business partners. Now, it's down to Lily to stir up some clues, sift through the suspects, and uncover the real killer before Rose is left holding the tea bag.
Redmond knocked on the front door of Tea by the Sea in seven and a half minutes. I let her in.
"I've made tea. The coffeepot's switched off, and the leftover coffee thrown away, but I can start a small pot if you'd prefer that."
"Tea will be fine."
"We can talk out here." I indicated the dining room. "I don't have any chairs in the kitchen."
I'd laid out a teapot and two place settings. Perhaps because I wanted to be surrounded by something pleasant when I talked to the police about death, I used  my personal set of Royal Doulton. I'd  taken some of tomorrow's baking out of the pantry and arranged a proper setting for afternoon tea with scones, pistachio macarons, and slices of chocolate tart, and had put small bowls of strawberry jam and clotted cream on the table. Today's flower arrangement, red roses in a thin glass vase, was still fresh.
Amy Redmond studied the table. She tried not to smile. "Is this a bribe, Ms. Roberts?"
"Call me Lily. I was preparing my own tea when I called you, so I thought you might want to join me. You can consider it a bribe, if you want."
She sat down. "This looks lovely. Do you know, I don't think I've ever had a proper afternoon tea."
"Time to start, then." I lifted the teapot and poured. "I didn't know what you liked, so I've made my favorite. This is a Creamy Earl Grey."
She took a deep breath, clearly enjoying the rich, fragrant scent. "Isn't tea just tea? Usually black, but green in a Chinese restaurant? Served with ice in parts to the south."
"Tea is a highly varied beverage," I said, "although it all has its origins in the plant Camellia sinensis. I'd educate you on what goes into making and serving the different varieties, but we'd be here all night, and that's not why I called. But I will tell you that Creamy Earl Gray is based on the traditional Earl Gray, with an added hint of caramel for a boost.
"This place is a labor of love for you, isn't it?"
I smiled at her.
Redmond helped herself to a scone. She cut it in half and spread it with butter, then added a spoonful of jam and a dollop of clotted cream. I put a macaron on my plate and put a splash of  milk and a half spoon of sugar in my own tea. I was glad I'd thought to serve tea. This felt a lot more comfortable than a police interrogation should.
"So," Redmond said, around a mouthful of scone, "what did you want to tell me?"
"Do you know a local woman by the name of Dorothy Johnson?"
"That name has come up in our inquiries. She and Mr. Ford had a public dispute over the sale of her property to him. She claimed he cheated her, but as far as we can see, he did nothing illegal. He paid her less than her property was worth, but the onus is on the seller to ensure they get a good price, unless they're mentally incapable of taking responsibility  for what they're doing, and there was never any suggestion Mrs. Johnson was in such a state. Why do you ask?"
"You said she's mentally competent. What about her physical condition?"
"Again, Lily, you need to tell me what you're getting at."
I sighed. "Okay. My grandmother and I paid a call on Dorothy."
"Why did you do that?"
"My grandmother isn't happy at being the suspect in a murder investigation. She thinks she can get to the bottom of things herself. She's like that."
"So I gathered."
"We heard through the North Augusta grapevine about Mr. Ford's business practices in general and his dealings with Dorothy Johnson in particular. So we checked up on her."
"And . . ."
"And . . . she appeared to be a feeble little old lady. Strong willed and bluntly spoken but quite frail."
Redmond nodded and drank some of her tea. Her eyes widened. "Wow, this is good. You say she appeared to be. That was my impression also. Do you know something to the contrary?"
"I saw her in town this morning, running across the street, standing in line for coffee, jumping out of the way of a man who accidently bumped into her. No walker, even though she has a handicap license plate and she gets around her residence with the aid of a walker. I'd be willing to bet good money she plays up being disabled for the sympathy factor and to get in front of lines. Also helps when the police come to call. Seeing as to how she's perfectly mobile, she might even enjoy the occasional walk along the oceanfront, maybe with the assistance of hiking poles."
"Do you make all the food served here yourself?"
That was an abrupt change of topic. Had she even heard me? Might as well answer the question. "I do, and everything's made completely from scratch. Nothing purchased and nothing out of a package. More than once, people have complained when they saw the prices. We never apologize. Good food, well prepared with excellent ingredients, much of it sourced locally, costs money. Not to mention fresh flowers on the table and real china and silver and linen at every place. Afternoon tea isn't an everyday thing, not even in the UK and certainly not in America. It's a treat, an indulgence, and I believe it needs to be presented accordingly."
Scone finished, Detective Redmond helped herself to a macaron and sipped her tea.
I decided to plow on. "I also just happened . . ."
Redmond peered at me over the top of her cup.
Tea and Treachery by Vicki Delany is available at: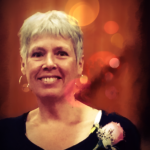 Vicki Delany is one of Canada's most prolific and varied crime writers and a national bestseller in the U.S. She has written more than thirty-five books: clever cozies to Gothic thrillers to gritty police procedurals, to historical fiction and novellas for adult literacy. She is currently writing four cozy mystery series: the Tea by the Sea mysteries for Kensington, the Sherlock Holmes Bookshop series for Crooked Lane Books, the Year Round Christmas mysteries for Penguin Random House, and the Lighthouse Library series (as Eva Gates) for Crooked Lane.
Vicki is a past president of the Crime Writers of Canada and co-founder and organizer of the Women Killing It Crime Writing Festival. She is the 2019 recipient of the Derrick Murdoch award for contributions to Canadian crime writing. Vicki lives in Prince Edward County, Ontario. Learn more about Vicki and her books at:
www.facebook.com/evagatesauthor
Instagram: vicki.delany
Twitter @vickidelany
@evagatesauthor