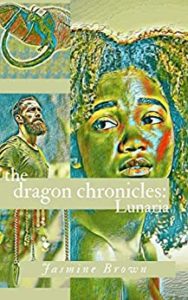 The Dragon Chronicles: Lunaria by Jasmine Brown
3.5 stars out of 5
This book has so much potential and I hope this author continues on.  There are other stories in this series and I'm tempted to give them a try.
I love strong heroines and this one has one easy to like and easy to hope for. It's riches to rags, coming of age young adult fantasy that has a lot to offer.
But, the book really needs an editor. Both for grammar/structure and developmental. It's not horrible. I was able to read the entire thing without too much frustration, but if that was fixed this would be fantastic! So there's hope for future books with this author. Give her a try.
ABOUT THE BOOK:
A kingdom of dragons overrun by tyrants that seek to enslave them. Only the fated Champion can save her people from certain destruction.
After the hostile takeover of her kingdom, Princess Lunaria simply wanted to lay low and stay alive. Even after she rescued a poor stranger from a group of rowdy Titans, she planned to return to a life of hiding. But when her enemies identify her as the former princess and demand she surrenders herself in exchange for the lives of 20 innocent dragons, she can stay hidden no longer.
Now exposed and thrust into her predestined role as Champion of Wizteria, Lunaria only has on goal: getting her people to the point of peace and prosperity. The Titans won't let that happen without a war. Will Lunaria win freedom for her people, or will the dragons descend into oppression and slavery for all eternity?
The Dragon Chronicles: Lunaria is the second book in The Dragon Chronicles Series and the companion book to the bestseller, The Dragon Chronicles: Solana. If you enjoy well-written page-turners with lovable characters and a great mix of action and adventure, you'll love Brown's latest coming of age fantasy.
Book review by Sheila English