Summer Reading Moments with Miranda Oh
There is nothing better than to sprawl out on a lounger with a chilled drink in one hand and a good juicy read in the other. With Covid and the rapid change in our world we're all experiencing right now, staying at home is the top of my priority list.
With the hot warm weather that has consumed the Manitoba air this year, I have turned to books that help me learn more about myself, which is a different direction that I usually turn towards. I'm typically a fiction nut that will read anything that piques my curiosity, and will stay away from the nonfiction. Although this summer I have turned to the non-fiction and self-learning on how to take care of myself without having to leave the comfort and safety of my home.
Balanced Babes Every Woman's Guide to Hormone Harmony is the current book I am working through right now. A wonderfully brilliant Naturopathic doctor from Australia; Stacey Afoat wrote this sassy yet informative and transformative book that teaches us how to better understand the beautiful works of science that goes on inside of our bodies.
Learn More about Miranda at:
Facebook: https://www.facebook.com/the.miranda.oh & https://www.facebook.com/ohmirandaoh
Website: www.mirandaoh.com
IG: https://www.instagram.com/ohmirandaoh/?hl=en & https://www.instagram.com/quillandinkposcast/?hl=en
Podcast Youtube Page: https://www.youtube.com/playlist?list=PLNiINfX_iapzz74DIUDADrepIDkgL7uO_
Twitter: https://twitter.com/ohmirandaoh?lang=en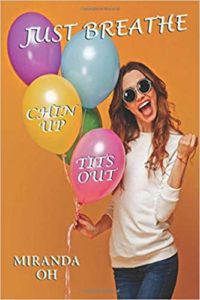 Here's a look at Miranda's latest release: JUST BREATH: CHIN UP, TITS OUT
Continuing the saga of Hadley, recently divorced and wending her way down the path of life in anticipation of her rapidly approaching 30th birthday as a single woman. Testing waters and wantonly accepting new and exhilarating scenarios, Hadley wisely chooses each path carefully before diving into the quagmire which is life. A humorous, oft times sexy, look at life from a young woman's standpoint, readers will laugh out loud at some scenarios, cry at others and knowingly shake their heads at still others.