What I Love about Fall By Barbara Hinske
The one word that best describes what I love most about fall is anticipation. I live in Phoenix, Arizona, where fall signals the welcome end of our legendarily hot summers. It's not only the drop in temperature and the shortening of the days, but the quality of light that makes my heart soar. It's noticeably different by October. Clouds, trees—even birds on a telephone wire—all seem to be bathed in a softer glow. My dogs and I extend our daily walk—it's irresistible to be outside.
Fall is full of anticipation of the holidays of Halloween, Thanksgiving, Christmas, Hanukah, and New Year's Eve—all of them showstoppers in very different ways. In two short months, we run the gamut from costumes/creepy/candy, through gratitude/family/roast turkey, to fancy party clothes/good cheer/New Year's resolutions, with a long pause for the rich religious and secular traditions surrounding Christmas and Hanukah.
I'm a homebody and celebrating these holidays involves all of the things I love best. A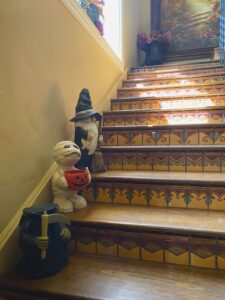 consummate list-maker, I'm in my element now. Planning anything—whether it be a party or a vacation—is as much fun for me as the event itself.
Guest lists and menus are attended to early on. I love to throw in a new recipe or two, so I begin my search in August, when the new crop of fall home and décor magazines hit the supermarket shelves. I've already tried a handful of new recipes that have been so good, I've included them in my regular repertoire. This year won't see me hosting any parties, but I'll bake breads and pies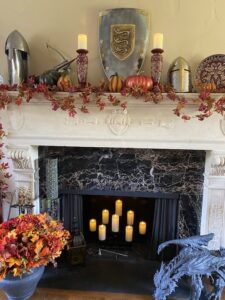 and leave them on the doorsteps of my would-be guests so that they know I'm thinking of them.
My favorite activity is decorating my home for the season. I'm one of those people who has items for every conceivable holiday, organized neatly on shelves in cabinets. My Christmas décor commands the most shelf space, but fall is a close second.
Beginning on Labor Day, I put down a layer of fall leaves, flowers, pumpkins, and gourds on almost every surface in my house. I scatter fall-themed throw pillows on the beds and upholstered furniture. All of this stays in place until the day after Thanksgiving.
On October 1, I pull out all the Halloween stuff—black cats, friendly witches, and cute ghosts. I don't like anything macabre or scary. By mid-morning on November 1, all of this has been replaced by turkeys, cornucopias, and pilgrims.
The day after Thanksgiving is a busy one in my home, as I begin the arduous process of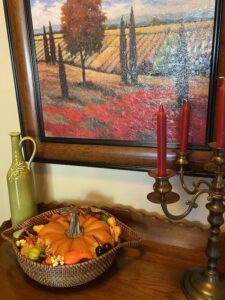 putting the fall décor away (all the while chastising myself for acquiring so much stuff) and hauling out the Christmas trees and decorations. I spend the long weekend eating leftovers and decorating every inch of my house for Christmas. I trim two large trees, one with heirloom ornaments that my mother made and another that I wind with garlands pre-decorated with ornaments. These garlands make the tree gloriously lush and it only takes about an hour to decorate the tree.
My husband strings as many lights on the outside of our house as the circuits will bear. He begins his process in October and is planning a bigger than usual display this year, to send out extra visual cheer.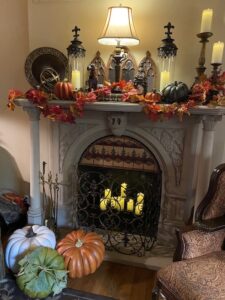 My home is an extension of myself and I love to dress it up, throw the doors open wide, and welcome friends and family. I'll decorate my house this year as I've always done to foster a sense of normalcy for my husband and me in this very non-normal time. Our spirits need boosting, too. We'll welcome friends and family in other ways this year, keeping our traditions alive in the interim.
The novels in my Rosemont series each contain at least one holiday celebration at the fabulous stone manor home named Rosemont that is almost a character in its own right. I love writing these scenes and many of them are based on parties I've thrown at my own home. The seventh novel in the series, Restoring What Was Lost, will be available on Amazon on October xx.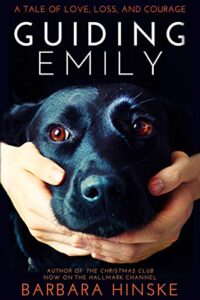 BE SURE TO CHECK OUT BARBRA'S LATEST RELEASE GUIDING EMILY:
Sometimes the perfect partner has four paws…
Emily Main had it all: a high-powered career with a leading technology giant and a handsome fiancé bounding up the corporate ladder. Their island wedding and honeymoon were idyllic-until a tragic accident causes her retinas to detach.
Her well-ordered life is shattered as all treatments are unsuccessful and she slips into blindness. How will those around her cope with her tragedy? Can she rebuild her life in this most unwelcome, new normal?
Meanwhile, a black lab puppy named Garth fulfills his destiny to become that most esteemed of all creatures: a guide dog.
Guiding Emily is a heartwarming tale of love, loss, and courage as Garth and Emily make their way to each other.
About the Author:
Barbara Hinske is an attorney who recently left the practice of law to pursue her career as a full-time novelist. Her latest novel, Guiding Emily, was conceived during a tour of The Foundation for Blind Children. She was inspired and moved by their mission and is donating half of her proceeds from the book to the Foundation. Barb is also the author of the bestselling Rosemont series and the murder mysteries in her 'Who's There?!' collection. Her novella The Christmas Club was made into a 2019 Hallmark Channel Christmas movie.
She inherited the fiction gene from her father who wrote mysteries when he retired and told her a story every night of her childhood. She and her husband share their own Rosemont with two adorable and spoiled dogs. A true homebody, she is besotted with decorating, entertaining, cooking, and gardening.