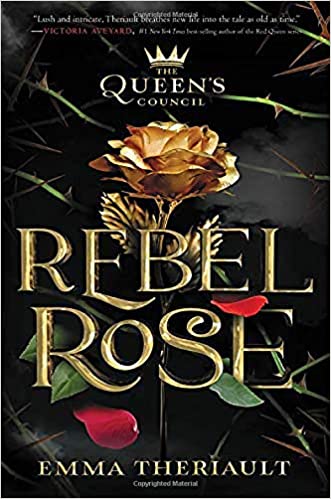 REBEL ROSE by Emma Theriault 
Happily ever after is only the beginning as Belle takes on the responsibility of becoming queen and learns to balance duty, love, and sacrifice, all while navigating dark political intrigue-and a touch of magic.
It's 1789 and France is on the brink of revolution. Belle has finally broken the Enchantress's curse, restoring the Beast to his human form as Prince Adam, and bringing life back to their castle in the province of Aveyon. But in Paris, the fires of change are burning, and it's only a matter of time before the rebellion arrives on their doorstep.
Belle has always dreamed of leaving her provincial home for a life of adventure. But now she finds herself living in a palace, torn between her roots as a commoner, and her future as a royal. When she stumbles across a mysterious, ancient magic that brings with it a dire warning, she must question whether she is ready for the power being thrust on her, and if being Queen is more than just a title.
Rebel Rose is the first in the Queen's Council series, an empowering fairy tale reimagining of the Disney Princesses-and the real history behind their stories-like you've never seen before.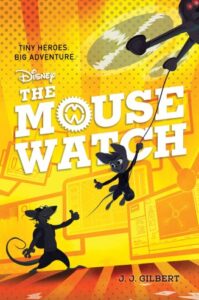 MOUSE WATCH by J.J. Gilbert
You've heard of the Rescue Rangers. Now meet the Mouse Watch. Around the globe, exceptional mice live in the shadows. Under the direction of famed mouse inventor Gadget Hackwrench, they work together as a team to solve BIG problems using SMALL gadgets. They are high trained. They are nearly invisible. And they love cheese. Their mission: save the world. Bernadette is a small— but brave— mouse with a score to settle. Jarvis is a sensitive rat with a big appetite and unmatched puzzle-solving skills. Both are eager to prove their worth as the youngest, newest recruits to the Mouse Watch. But before their first day of training is through, Bernie and Jarvis find themselves at the center of an evil plot orchestrated by the Rogue Animal Thieves Society (R.A.T.S.). Soon they are catapulted from new recruits into full-on action heroes, as they learn how to work together to save the Mouse Watch— and the world as they know it. Mission Impossible meets "Mice in Black" in this action-packed middle grade adventure that will take readers on an epic thrill ride and leave them ready to join the Watch!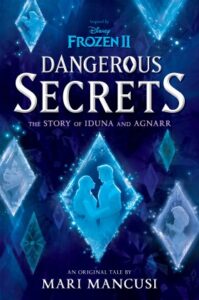 FROZEN 2: DANGEROUS SECRETS by Mari Mancusi
Sixteen-year-old Iduna harbors a dark secret. On the surface, she is an Arendellian village girl, an aspiring inventor, and the best friend of Prince Agnarr, but she is also secretly Northuldra.
Ever since the day the forest fell, Arendellians have despised and distrusted Northuldra with a vengeance. No matter that the Northuldra—along with some of Arendelle's own—have been trapped in the Enchanted Forest behind an impenetrable wall of mist since the day of the battle.
Iduna doesn't know why the mist refuses to part, or why it descended to begin with. The only clear thing is that she must keep her identity from everyone, even Agnarr. Her life depends on it.