Who doesn't love storytime? The Wake County Public Libraries offers a series of storytime readings and activities you can engage with right at home.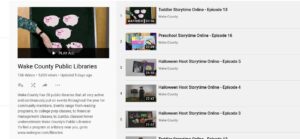 This is fun for children, toddlers and up! It's more than just stories. It's activities as well! This is fun for the kids and something positive for parents to share.
You can see several of the episodes HERE.
And watch an example of their videos below-