A Bride of Convenience by Jody Hedlund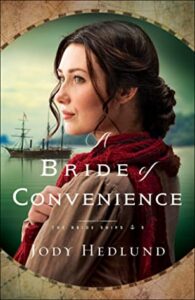 My rating: 4 of 5 stars
This is such a heartwarming book. I absolutely love the characters and how they come to life. Zoe is kind, caring, and looking for a new life. She goes on a bride ship to not only find a new life, but to look for her brother that ran away years before. Abe is gentle, god loving pastor who love ministering to the miners. He is hoping that one day he goes back to England to marry his sweetheart. However, things never are quite what they seem. God has other plans for both Zoe, and Abe. When their lives collide in an inopportune time, they are both set forth on a path that they must travel together. Yet, with the past catching up to both of them, they need to form a solid front to survive the new frontier. I love this series and can't wait to read more. Happy reading my friends.
Book Summary:
Unemployed mill worker Zoe Hart jumps at the opportunity to emigrate to British Columbia in 1863 to find a better life and be reunited with her brother, who fled from home after being accused of a crime.
Pastor to miners in the mountains, Abe Merivale discovers an abandoned baby during a routine visit to Victoria and joins efforts with Zoe, one of the newly arrived bride-ship women, to care for the infant. While there, he's devastated by the news from his fiancee in England that she's marrying another man.
With mounting pressure to find the baby a home, Zoe accepts a proposal from a miner of questionable character after he promises to help her locate her brother. Intent on protecting Zoe and frustrated by his failed engagement, Abe offers his own hand as groom. After a hasty wedding, they soon realize their marriage of convenience is not so convenient after all.