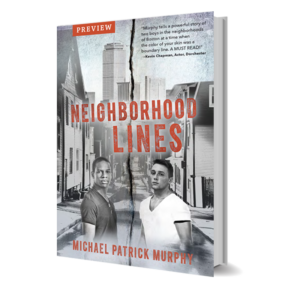 These true events are recounted by someone who lived it. Author Michael Patrick Murphy lived in Boston in the 1980s and 1990s and this book is based on his life story during that time.
Neighborhood Lines by Michael Patrick Murphy
A Half-Century After Boston's Busing Crisis, A Look Back At A Colorblind Friendship Amid Racial Tensions in 'Neighborhood Lines' http://www.neighborhoodlines.com/ Profoundly moving, fearless and inspiring, Michael Patrick Murphy's novel "Neighborhood Lines" shines a light on a friendship between two individuals caught up in the effort to desegregate Boston schools in the late 1980s and early 1990s. Nakedly honest and grippingly dramatic, this is the story of the bonds formed by Patrick and Nate, two students from dramatically different Boston neighborhoods. Patrick is white, Irish-Catholic and from South Boston. Nate is an African-American star athlete from the black section of Boston. Both meet in the classrooms of Boston's Cathedral High School and, against all odds, forge a friendship that is lasting and true. The story is a testament to the power of love and solidarity despite the fear and hatred of racial discrimination.