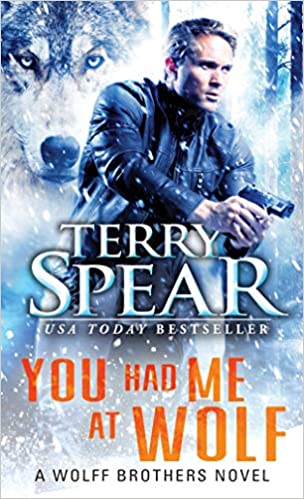 You Had Me At Wolf by Terry Spear
Review by Maureen Gianinio
A wolf on a mission cannot be deterred…
This is such a well told story. Terry Spear takes us back to Silver Town for a whole new adventure! The Wolff brothers and sisters will have their stories told in this new series. First up is Blake Wolff and his mission to convince Nicole Grayson there's more to life than work, that what's between them is more than pretend, and he's just the wolf to show her, if the dangerous criminal she's after doesn't get in the way. Love how they become a team and how Nicole practically takes over his resort to catch the bad guys. A wolf hates to lose their prey, and Nicole couldn't catch the villain once before this time nothing was going to stop her, especially when his previous victim is there to see it… even if it made her a little narrow-sighted about what was growing between her and Blake. Terry does a great job bringing family and community together to solve the case and bring these two together! Humor, action packed scenes and shifter strengths, all perfectly balanced through the storyline! Can't wait to see what's in store for Blake's siblings!