Book Culture has three different locations in New York and offers so much!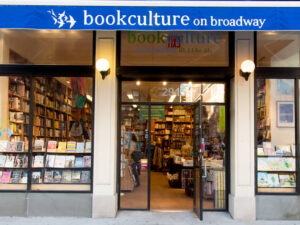 Are they open for physical browsing? YES
Open for order pick up and browsing.
Broadway and 114th St. in Manhattan 10AM – 8PM every day 646-403-3000
Children's Floor 12PM – 6PM 
26-09 Jackson Ave in LIC 11AM – 7PM every day 718-440-3120
536 West 112th Street in Manhattan 11AM – 7PM every day 212-865-1588
Can you shop online? YES
Book clubs! https://www.bookculture.com/book-clubs Lots of different kinds from Themes in Literature to The Queer Book Club, Essays and so much more!

Check out their fun blog- https://www.bookculture.com/blog
Show your support by considering gift cards from Book Culture!
Gift cards- https://www.bookculture.com/gift-cards
History of Book Culture
Book Culture was founded as Labyrinth Books in 1997 by current owner Chris Doeblin and his partner at the time Cliff Simms. In the summer of 2007, Book Culture became a completely independent company when Doeblin bought out his partners. Chris began his career in the early 1980s with a brief stint selling books for Papyrus book store at 114th and Broadway, and then as the receiving clerk in the basement of the old Book Forum which was located across from the main gate of Columbia on Broadway.  Read more HERE