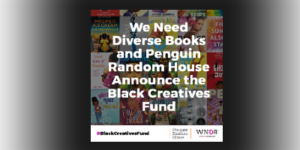 Together with We Need Diverse Books (WNDB), we are thrilled to announce the launch of the Black Creatives Fund, an initiative with a mission of supporting emerging and established Black writers and illustrators. PRH is the inaugural sponsor of the fund for the 2021 year.
The Black Creatives Fund will feature three initiatives in 2021, including a Revisions Workshop, a mentorship program, and a marketing symposia in partnership with the Brown Bookshelf. The Fund will launch with the six-month Revisions Workshop that will support unpublished Black writers with completed manuscripts and feature esteemed faculty including PRH authors Nic Stone and Jewell Parker Rhodes.
Twelve writers selected for the workshop will have the opportunity to receive guidance throughout the revision process and submit their manuscript to editors at PRH for possible publication. All 12 writers will be awarded stipends. Two finalists will receive larger grants, and publishing deals for top performers will be strongly considered. The Revisions Workshop will kick off in spring 2021.
As longtime partners of WNDB, we are honored to collaborate with them to build this important new pipeline for discovering and elevating Black voices. The Black Creatives Fund is an integral piece of Amplify Black Stories, our year-long campaign to celebrate Black authors and introduce their stories to a diverse group of readers. In addition to PRH Corporate, the Fund is being supported by Out of Print, who is dedicating 100% of proceeds from their limited-edition Frederick Douglass "Once You Learn to Read" t-shirt during the month of February to the program.
Submissions for the Revisions Workshop open this Friday, February 19. For more information, please visit the Black Creatives Fund program page. Details regarding PRH's latest partnerships and initiatives to elevate diverse voices can be found on our social impact site.
#penguinrandomhouse