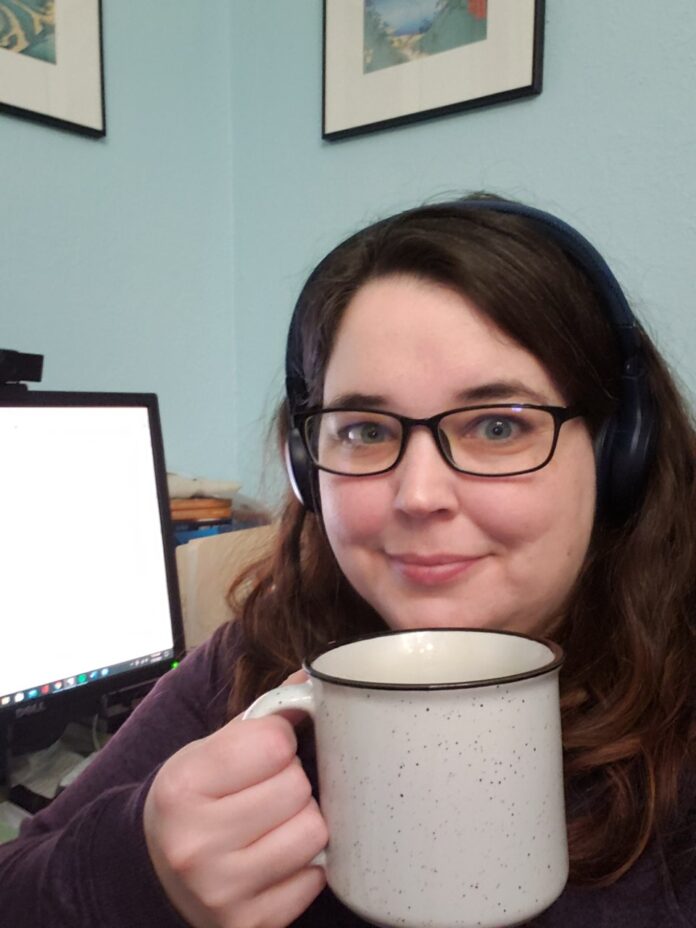 IT'S MEET THE ROMANCE AUTHORS MONTH!
MEET J.E. MCDONALD…….
I'm a morning writer who hates mornings. Every day I drag myself out of bed and join the #5amwritersclub on Twitter, bolstered with cups of coffee straight into the vein. Despite my dislike for waking before the sun rises, it's my most productive time of the day. My kids are still asleep and the quiet of the morning is only interrupted by the music I blast in my headphones.
When I'm not writing paranormal romance, romantic suspense, or sci-fi romance, I'm trying to quiet my brain. If I don't have something repetitive to do, then my brain doesn't stop thinking—whether that be stress-related worries, life in general or my current work in progress. And sometimes the best way for me to cultivate creativity is to stop thinking for a while.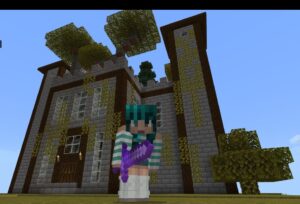 I'm addicted to building castles. When my oldest daughter, at five years old, became interested in Minecraft, I had to learn the game in order to teach her. I was drawn to it, a digital version of Legos, but even more fun because I could walk through my builds, decorate them, and make them as intricate as I liked. I like the challenge of building in survival mode, of needing to hollow out a mountain to have enough materials to build a castle or of turning the mountain itself into a castle. That began four years ago and I haven't become bored of it since.
Other pastimes include ruining recipes while trying them for the first time, kicking my children's butts at video games such as Just Dance and Mario Kart, and otherwise avoiding the dishes in the sink.
My first two novels in the Wickwood Chronicle, Ghost of a Gamble and Ghost of an Enchantment are out now, paranormal romances with a rom-com twist published by City Owl Press. Find out more at www.jemcdonald.net.
Take a look at J.E.'s latest release: Ghost of an Enchantment, book two of the Wickwood Chronicles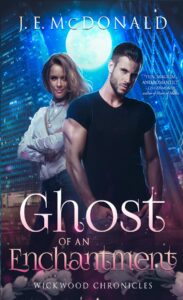 Something extraordinary hides beneath Wickwood's picturesque façade… and this time it's not staying buried.
Stella Campfield might be having a string of bad luck, but she has her witch's intuition telling her it will turn around. That is until her best friend accidentally opens a portal to another dimension!

When the police arrive, she's dismayed to learn the officer she's been obsessing over is on the case. As an energy reader, she's drawn to him like no other, but she can't explain why.
And that changes everything.

When Lucas Martinez ends up on the alluring lady's doorstep because of a noise disturbance call, he is unexpectedly pulled into the world of the paranormal.
Burn marks on the floor and floating books? Nothing is as it seems.

As his attraction for the secretive witch grows, and as he digs into the mysteries surrounding her, he's even more convinced Stella is at the center of it all.

Can the unlikely pair learn to trust each other or will the sinister forces surrounding them tear their burning romance—and the world—apart?
Purchase Links:
Amazon: https://smarturl.it/Wickwood2Amz
B&N: https://smarturl.it/Wickwood2BN
Kobo: https://smarturl.it/Wickwood2Kobo
iBooks: https://smarturl.it/Wickwood2iBooks
GoodReads: https://smarturl.it/Wickwood2GR