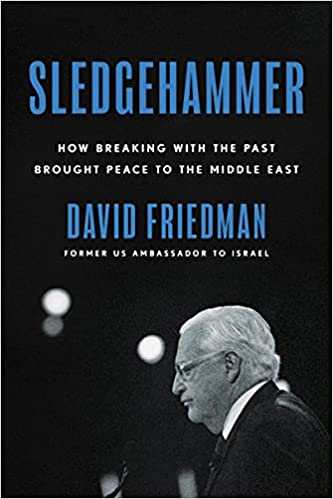 BROADSIDE BOOKS TO PUBLISH SLEDGEHAMMER A NEW BOOK BY DAVID FRIEDMAN, FORMER US AMBASSADOR TO ISRAEL
Broadside Books has acquired World English Rights to Sledgehammer: How Breaking with the Past Brought Peace to the Middle East,Sledgehammer: How Breaking with the Past Brought Peace to the Middle East, an exclusive, first-hand, behind-the-scenes story of how the United States worked to broker the Abraham Accords, by former US Ambassador to Israel David Friedman. VP & Editorial Director Eric Nelson acquired the book, which will be published on February 8, 2022.
Ambassador Friedman led the United States in implementing its steadfast and historic support for Israel during the past administration. Many expected that shift in policy to result in an explosion of violence; instead it resulted in an explosion of peace. In 2020, the United States brokered a breakthrough series of peace deals between Israel and some of its Arab neighbors, the first in a generation. The Abraham Accords normalized relations between Israel and the United Arab Emirates, Bahrain, Sudan, Kosovo and Morocco. The accords were the result of painstaking, behind-the-scenes work by a small team with no prior diplomatic experience, including Ambassador David Friedman. Sledgehammer is the full story of the accord—its origin and how it was successfully achieved.
As the prospects for President Trump's Vision for Peace between Israel and the Palestinians was growing dimmer in 2020 due to the intransigence of the Palestinians, the chaos of Israeli politics, and the unforeseen worldwide pandemic, David Friedman and his team found themselves in a position to negotiate five historic peace agreements—not between the Israelis and the Palestinians, but between Israel and four of its Arab neighbors along with Kosovo. Undeterred by the numerous challenges they faced, the newly minted diplomats sought to capitalize upon the trust they had earned among Israel and many of its Muslim neighbors. They realized that a new future was possible now, and perhaps only now, and that the United States needed to find a way to facilitate it or lose out forever.
Friedman takes us across the globe and back, from the Oval Office to the highest echelons of power in the Middle East and puts us at the table during the intense negotiations that led to this historic breakthrough. The inside story of arguably the greatest achievement of the Trump Administration, Sledgehammer is an important, inspiring story of the hard but hopeful work necessary to bring long overdue—and lasting—peace to one of the most turbulent and tragic regions of the globe.
Commenting on the upcoming publication of Sledgehammer, Ambassador Friedman said: "The Abraham Accords will help the Middle East emerge from its lengthy history of conflict and lead the world in combatting extremism through opportunity, prosperity and hope. I wrote this book to help achieve a greater public understanding of these inspiring and critical agreements."
HarperCollins VP and Editorial Director Eric Nelson said: "It's rare in politics to get a candid and thoughtful account from key players at historic moments, and we're proud to have this one."