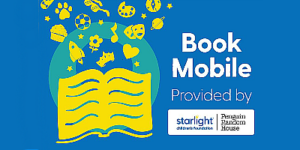 PRH Expands Support for the Starlight Book Mobile, Bringing Reading to Hospital-Bound Children
For the past nine years, Penguin Random House has supported the Starlight Children's Foundation Book Mobile Program, which offers pediatric patients at local hospitals the chance to explore fictional worlds through books. The program provides a much-needed pastime for severely ill children throughout their hospital stays and helps them cope with feelings of fear, loneliness, and anxiety.
"It has been so important to have this cart and all the wonderful Penguin Random House books," said Barbara Bunker, MSN Health Librarian at Morgan Stanley Children's Hospital. "I can tell you that they are well received and used both in the Family Resource Center and on the units. When we take the cart to the pediatric unit, families come out of their rooms to congregate by the cart and give advice to each other about 'good reads' for their children."
PRH funded this initial grant request in 2012 and continues to provide patients with free books for all ages, from board books for infants to YA novels for teens. Currently, we supply book mobile carts at The Children's Hospital at Montefiore in the Bronx, Beth Israel Medical Center in Manhattan, New York Presbyterian Morgan Stanley Children's Hospital in Manhattan and Harlem Hospital in Manhattan. We have now supplied book mobile carts to Richmond University Medical Center in Staten Island, Jamaica Hospital Medical Center in Queens, and the Brooklyn Hospital Center in Brooklyn. We are thrilled to be able to expand our partnership to have an impact in all five NYC boroughs. The book carts will be replenished annually with Penguin Random House children books.
"The Book Mobile Cart and the Penguin Random House books have had such an impact on our patients and their families," said Ivana L. Man, MA, CCLS, Harlem Hospital. "The Mobile Book Cart sits right outside the playroom on the pediatric inpatient unit, and as the patients leave for the day they like to choose a book to bring back to their rooms. Sometimes the patients like to come with their families to choose a book to read together or by themselves. Having a wide variety of books for children of all ages is especially important in our community to foster an interest in literacy."
To read more about the Starlight Children's Foundation and learn other ways they are delivering happiness to seriously ill kids click here.