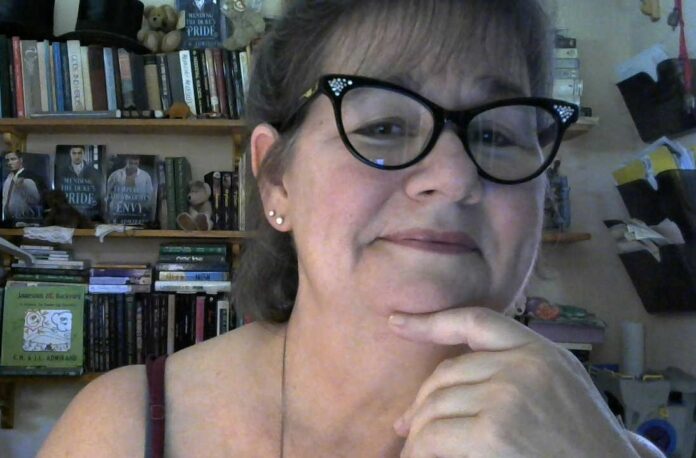 Viscounts and Vices with Author C.H. Admirand on Book Lights
C.H. believes in fate, destiny, and love at first sight. C.H. fell in love at first sight when she was seventeen. She was married for 41 wonderful years until her husband lost his battle with cancer. Soul mates, their hearts will be joined forever. They have three grown children—one son-in-law, two grandsons, two rescue dogs, and two rescue grand-cats.
Her characters rarely follow the synopsis she outlines for them…but C.H. has learned to listen to her characters! Her heroes always have a few of her husband's best qualities: his honesty, his integrity, his compassion for those in need, and his killer broad shoulders. C.H. writes about the things she loves most: Family, her Irish and English Ancestry, Baking and Gardening.
Take a trip back in time to Regency England for her new series: The Lords of Vice, or venture back to the Old West with her bestselling Irish Western Series. Fast-forward to the present, stopping at the Circle G Ranch in Pleasure, Texas, before finally landing in Apple Grove, Ohio–Small Town USA–for a slice of Peggy McCormack's Buttermilk Pie!
C.H. loves to hear from readers! https://www.chadmirand.com
And for more about host Lisa Kessler visit http://Lisa-Kessler.com
Book Lights – shining a light on good books!
Here's a look at C.H.'s latest release — Tempering the Viscount's Envy (The Lords of Vice Book 3)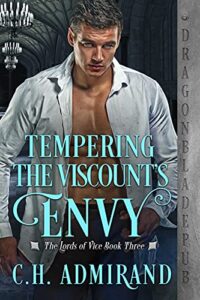 Pride, Lust, Envy and Greed…vices that could lead a gentleman down the road to ruin. Unless he meets his saving grace in the form of a virtuous poor relation.
A chance meeting at dawn on Hogmanay brings a tall, dark, and handsome man into Lady Calliope's life. Will he bring good fortune and the promise of love, or disaster?
Viscount William Chattsworth is envious of his cousin, the duke. The duke's good fortune and lofty position in society has been well-earned. The viscount's circumstances have been drastically reduced after his father, the earl, mysteriously disappears. Thinking to make the most of the distant familial connection, he seeks an audience with the duke. The audience does not go as planned, and the half-truths he tells the duke are exposed as angry words are exchanged.
Lady Calliope Harrington has been enjoying an extended stay at Wyndmere Hall with the duke's sister, Lady Phoebe, and their good friend, Lady Aurelia Coddington, as she prepares to marry the duke's brother. Distracted by the raised voices coming out of the duke's upstairs study, she pauses at the top of the stairs to listen.
The viscount storms out of the study and barrels into Lady Calliope, catching her before she falls headlong down the staircase. Breathless from having the wind knocked out of her, Calliope cannot speak, only cling to her rescuer's arms.
The duke rushes out of his study and sees Lady Calliope in the viscount's arms, the butler and housekeeper at the bottom of the stairs staring at the couple, and immediately demands his cousin marry Calliope to save her reputation.
The viscount is saddled with a bride-to-be, who has no fortune or family to speak of, and is on shaky terms with his benefactor, the duke. Calliope is about to marry a man who is blinded by envy and desperately in search of an heiress, while she has nothing to offer him.
Living apart, the viscount in London at the behest of the duke, and Calliope at Chattsworth Manor, the couple slowly realize the instant attraction they had felt on Hogmanay has only grown stronger, while Calliope's frustration over their hasty marriage to protect her name, and the viscount's need to marry an heiress, lessen over time.
Will the viscount let go of the crippling envy that keeps him from seeing the inner strength beneath Calliope's quiet beauty and come to love her? Will Calliope learn to trust the viscount and finally find her true place in life—at the viscount's side?