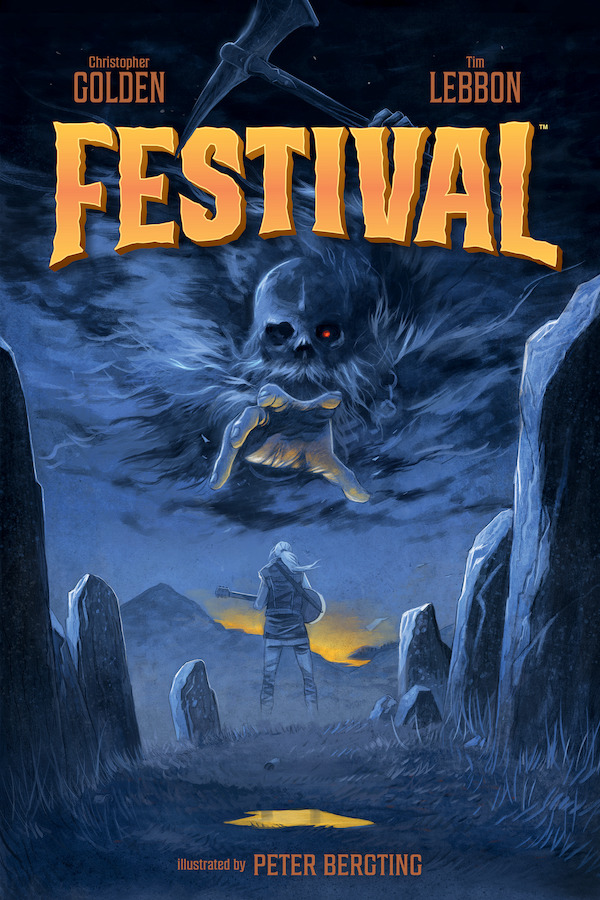 Cover and Illustrations by Outerverse and Hellboy Universe Artist, Peter Bergting!
New York Times bestselling horror authors Christopher Golden (Ararat, Road of Bones, Hellboy: The Bones of Giants) and Tim Lebbon (Eden, The Last Storm) weave a new tale of terror in the horror novella Festival, from Dark Horse Books. This hardcover edition will include a cover and illustrations by Peter Bergting.
The Valhalla music festival commemorates a long-ago Viking slaughter, but when strange things start to happen it seems the massacre may be far from over. When festival-goers begin to disappear, and musicians find themselves playing mysterious and ancient songs as if possessed, the fans have to figure out what's going on before the festival site's haunting past comes back for blood.
The Festival hardcover will be available at comic stores October 12, 2022 and in bookstores October 25, 2022. It is available for pre-order on Amazon, Barnes & Noble, and at your local comic shop and bookstore. Festival will retail for $19.99.
Praise for Road of Bones by Christopher Golden:
"Golden is writing at the top of his game." –Publisher's Weekly
"[A] horror-thriller hybrid that will chill even the most jaded readers…Give to fans of emotional, though-provoking, nature inspired horror like The Only Good Indians (2020) by Stephen Graham Jones or Wonderland (2020) by Zoje Stage."—Booklist (starred review)
"The writing is lean, muscular. Readers will feel the cold (and the terror) in their bones…An essential read for horror and supernatural thriller fans." –Library Journal (starred review)
Praise for Eden by Tim Lebbon:
"This is a true page-turner that seamlessly blends elements from various genres, from horror and science fiction to classic adventure tales."–BookPage
"Lebbon offers weirdly beautiful and horrific images that call to mind those delivered in the theatrical version of Annihilation, and many times I was left chilled by his depictions of a remorseless Nature determined to thrive and grow. A truly gripping and horrifying read." -Cemetery Dance
"Lebbon excels at building a world that is both wondrous and deeply unsettling…"—Publishers Weekly