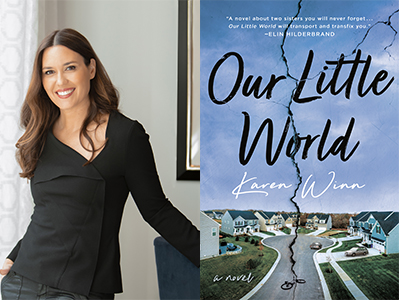 Welcome Karen! So happy to have you on Behind The Words. Karen's first novel OUR LITTLE WORLD just released yesterday. First, congratulations! And let's introduce you to our readers.
Tell our readers a bit about yourself. 
I was born and raised in New Jersey but have called Boston home now for quite some time. I live with my husband and our son and daughter, all of whom are die-hard Boston sports fans. I once promised my late father I wouldn't become a Red Sox fan, and I've honored that (though truth be told, I don't really follow sports other than soccer—the Premier League—and even that's loosely). We have one dog, "Mando," that my son named after The Mandalorian (we love Star Wars).
How long have you been writing and it is your full-time job? If not, what is your 'real world' job? How long have you been writing? 
I've had an entire other career, as a nurse. I was a registered nurse, and then became a nurse practitioner, and even received my doctorate in nursing. These days I no longer see patients; I'm a clinical consultant and find this work very valuable and fulfilling. But I've also always loved writing, from the time I was young. And so even in the throes of nursing study, I was always stealing time to write. Then while working as a registered nurse, I attended a low-residency MFA program. Over the years I've taken many, many writing classes. And I've been in two writing groups, one local and one virtual, for several years. It's been wonderful, really, to have these two loves: one of nursing/medicine, and one of writing.
What does your typical writing day looks like?  
My writing days are not typical, as I'm a mom to two kids and also a health care consultant. But when I'm on a roll, working on a story or novel, then I'm up early in the morning writing, even before the kids wake up, and then I'm continuing to write after school drop-off. And when I'm really immersed in a piece, I'll sneak away to work on it every chance I get throughout the day.
Tell us about your first book release?  
My debut novel, Our Little World, will be published on May 3 by Dutton/Penguin Random House. Set in the 1980s in a small and idyllic New Jersey town, Our Little World is a lyrical coming of age novel about two sisters with a relationship equal parts love and envy, whose lives are suddenly and irrevocably changed by a neighborhood girl's disappearance at the lake. In the aftermath, the sisters' little world cracks, both inside the home, as secrets, guilt and jealousy come between them; and outside of it, as the illusion of stability in their close-knit community is shattered.
What inspired the idea for this book? 
Basically, I wanted to tell a story about sisters and secrets, and how seemingly small actions can have lingering and cumulative consequences. The starting point for the novel came from an incident that occurred in my own childhood, when I was swimming at the local lake. My mother couldn't find me, as I loved to swim underwater for long periods of time, so she panicked and alerted the lifeguard. When I came up for air, I noticed swimmers were exiting the lake—though I wasn't sure why. I followed them and spotted my frantic mother standing with the lifeguard, who was nervously pointing out other children and asking, "Is this her?" That incident has always stayed with me, and it seemed like a powerful starting point for a story: What if I—or someone else—had gone missing that day?
Which of the characters do you relate to the most and why? 
I don't relate to one overall. I relate to bits and pieces of different characters. I relate to Bee's mother, because I'm a mother, and I understand her quiet, gritty determination. I relate to Bee's father, because my own father was a Hungarian immigrant, and so the Hungarian aspects of the story feel familiar to me. I relate to Bee and her pre-teen awkwardness and angst; I relate to Audrina and her masked insecurities. I relate to Mrs. Baker, too, because of my nursing background.
Would you and your main character be friends? 
This is such a great question. I'm not sure that as a child, I would have been friends with Bee. I wouldn't have necessarily been drawn to her—her personality. On the other hand, I'm not sure I would have been friends with Audrina, either. Certainly, if they lived in my neighborhood, then we would have been friends, or at least friendly. As an adult, I might find the adult version of Bee interesting and worthwhile getting to know. Especially if I had learned about her backstory. Then I probably would have been intrigued and wanted to know more about her—what makes her tick.
What part of the book was the hardest to write? 
The hardest portion of the book to write was the death of Audrina (Bee's sister)—and the immediate aftermath of it, the way the family learned about it and then processed and grieved. The hardest technique was the use of the retrospective first-person narrator and finding the balance (and distance) between the adult Bee, who is retelling the story, and her twelve-year old persona.
Did you model a character after someone you know?
No, but I did name a few characters after people! The librarian, Mrs. Hatcher, is named after one of my closest friends, Kristen Keith, whose maiden name is Kristen Hatcher!  They aren't at all alike, but I wanted to weave in Kristen's name in some capacity, because I knew she would get a kick out of it. And Chief Riley's name came from my niece, Riley, and the neighbor Drew from Andrew, my nephew.
If you're planning a sequel, can you share a tiny bit about your plans for it?
There is no possibility for a sequel, since the neighborhood girl Sally and Bee's sister Audrina both die (and the reader learns this in the first two pages, so I'm not giving anything away!).
Could you share one detail from your current release with readers that they might not find in the book? Perhaps a juicy bit of back-story, or something only you know about a character?   
Yes! There was a bit about Max as an adult that ended up getting cut. Bee essentially searches through Max's wife's Facebook profile, since she doesn't have privacy settings, to learn more about him in his adult life. He and his wife live in Seattle, and they have two children: a boy and a girl. His daughter's picture reminds Bee of Sally.
Are there any particular authors that have influenced how you write?  
There are many, many authors who have influenced me: some whose writing I've found comfort in, some whose writing style I've greatly admired, others whose storytelling capacities astound me. In my twenties I loved Hemingway, and I returned to him during the time my father was on hospice. I admire Emily St. John's narrative construction, Ann Patchett's elegant fiction and essays, Arundhati Roy's poetic prose... This list goes on! I'm always influenced by great writing in that it makes me take a closer look at my own writing and consider the ways I can improve it.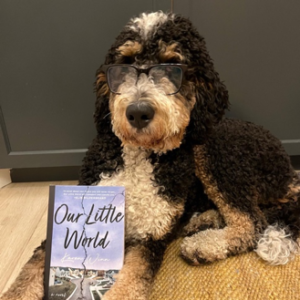 Any writing rituals? 
I usually put on my noise-cancelling Bose headphones and listen to a playlist I've created that captures the essence of the piece I'm working on.
What's your favorite under-appreciated novel? 
Ask Again, Yes by Mary Beth Keane was a well-deserved New York Times bestseller, and a beautiful book, but I actually prefer her second novel, Fever, a historical fiction tale about Typhoid Mary. This might be because of my nursing background.
Do you have a secret talent that readers would be surprised by?
I can solve a Rubik's Cube! I learned during the pandemic.
Your favorite go-to drink or food when the world goes crazy!  
I think about this question a lot, actually. (Can you tell I love food?!). I love McDonald's French fries. I love all fries, actually. These days I'll eat sweet potato fries, to be healthier. But in my opinion, there is nothing is as good as McDonald's fries.
And what is your writing Kryptonite?
If someone in my family is sick, then my mind is preoccupied, and there is no way that I can focus on writing.
What is the one question you never get ask at interviews, but wish you did? Ask and answer it.
Okay, what about: What is your favorite line from your novel?
I have two favorite lines. The first is:  The news hit our town like a main sewer line break—the terrible underbelly of humankind suddenly unearthed, exposed.
And the second is: Sisters were we.
Thank you so much for joining us today! And we love Mando!!!
Reader's here's a quick look at OUR LITTLE WORLD: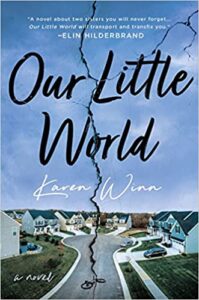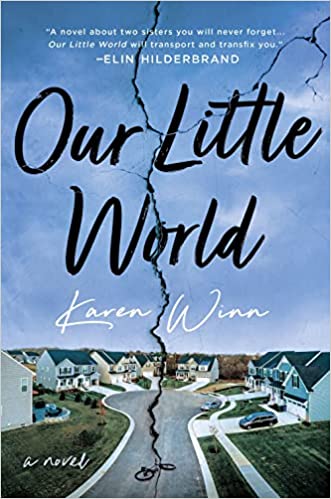 July 1985. It's a normal, sweltering New Jersey summer for soon-to-be seventh grader Bee Kocsis. Her thoughts center only on sunny days spent at Deer Chase Lake, on evenings chasing fireflies around her cul-de-sac with the neighborhood kids, and on Max, the boy who just moved in across the street. There's also the burgeoning worry that she'll never be as special as her younger sister, Audrina, who seems to effortlessly dazzle wherever she goes.
But when Max's little sister, Sally, goes missing at the lake, Bee's long-held illusion of stability is shattered in an instant. As the families in her close-knit community turn inward, suspicious and protective, things in Bee's own home become increasingly strained, most of all with Audrina, when a shameful secret surfaces. With everything changed, Bee and Audrina's already-fraught sisterhood is pushed to the limit as they grow up—and apart—in the wake of an innocence lost too soon.
ABOUT KAREN: 
Karen Winn received her MFA from Fairleigh Dickinson University. She also holds a doctoral degree in nursing. Born and raised in New Jersey, Karen now lives in Boston with her husband and two children. Our Little World is her first novel.