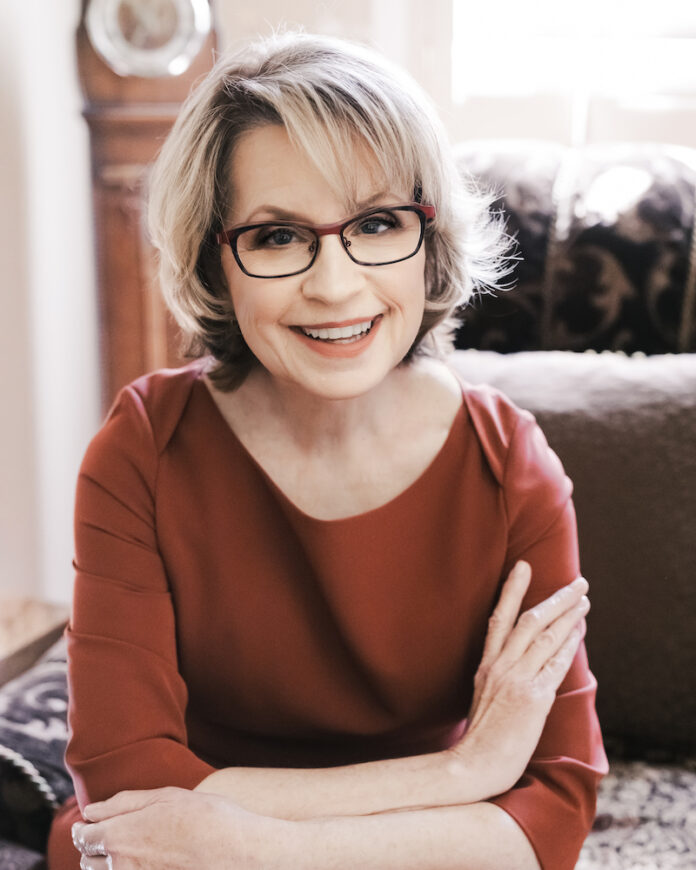 Fictionally Factual – featuring authors who are letting you in on all the 'facts' that go into their fiction works.
ALL A BUZZ FROM RESEARCHING SUGAR! BY BARBARA HINSKE
I blame The Great British Baking Show for all of this. That, and being stuck at home due to covid. I binge-watched the show and baked up a storm. After putting on too many pounds from all the cakes, cookies, pies, and loaves of bread I was turning out, I shared my handiwork with my neighbors. Pretty soon, they were avoiding me like that person who has a bumper crop of zucchini they are trying to get rid of.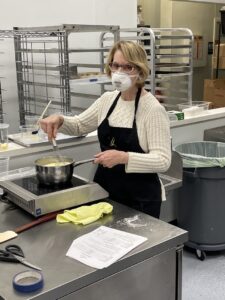 I finally got out of the kitchen, picked up my laptop, and began to write. Paws & Pastries published in November, 2020. It's a sweet novella that's the literary equivalent of a hot fudge sundae—with nuts on top (meaning that there's a bit of crunch in this book—everything isn't sweet and creamy). I thought the book would be one and done, but reader reaction was so positive that I've written a sequel.
Sweets & Treats, the sequel to Paws & Pastries, releases May 19. The series follows along as Clara Conway leaves her cheating husband, travels to a welcoming small city, makes charming new friends (including the most eligible bachelor in town), is adopted by a stray dog, and acts on her heart's desire by opening a patisserie.
Writing about a patisserie sent me back to watching TGBBS for a second round. I also decided that I needed to research the business aspects of opening and running a successful bakery. I needed to get inside a patisserie.
As soon as my husband and I got home from a matinee movie, I had planned to google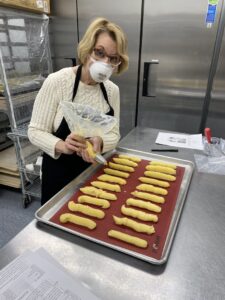 patisseries near me. We drove to the theater and parked right in front of a charming storefront with a sign that read JL Patisserie. I kid you not!
JL Patisserie is owned by Jenna Leurquin, a Le Cordon Bleu Paris-trained pastry chef. Chef Leurquin is the same age as Clara, my protagonist. I'd found my source! This was going to be so much more fun than internet research.
How many croissants do you make each day?  1000.
How long does it take to make a croissant?  3 days for a butter croissant/4 days for an almond one.
How many bakers do you employ?  20, working 24/7.
Why do you have so many freezers in a bakery? Storing all ingredients—including flour and sugar—in the freezer guarantees that every batch of dough begins at the same temperature and allows consistent preparation times.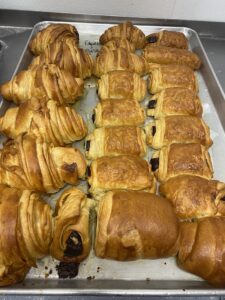 I signed up for classes that Chef Leurquin teaches at her patisserie. My husband and I learned to make eclairs and croissants—and a whole lot more. Chef Leurquin is a gifted teacher and is extremely generous with her extensive knowledge of cooking in general. I got to see how a high-end commercial bakery operates. All of the insider information that I required for my books was freely shared. And we came home with boxes full of delicious pastries.
I'm continuing my research by taking a macaroon class with my daughter next month. Researching books is almost as much fun as writing them. I think my next series will be set in the George V hotel in Paris. Staying there as part of my research would be a dream come true!
Here's a quick look at SWEETS AND TREATS. It releases tomorrow!!!
Sweets & Treats. (Book 2 in the Paws & Pastries series)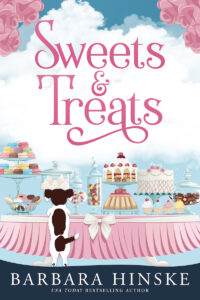 Clara's decision to open her patisserie in Pinewood has her happily burning the candle at both ends to make her dream a reality. And an unlikely collaboration is healing for both parties.
With Noelle at her side, she and her canine companion are settling into a new home and forming friendships. There's even romance in the air.
Back in Glenn Hills, however, her husband is stirring up trouble and doing everything he can to derail their divorce. Eager to move forward with her life—both professional and personal—as a single woman, Clara is at her wit's end. Sometimes, however, fate steps in to lend a helping hand.
Follow along as Clara forges her path in the warm community of Pinewood.
ABOUT THE AUTHOR:
USA Today Bestselling Author BARBARA HINSKE is an attorney and novelist. She's authored the Guiding Emily series, the mystery thriller collection "Who's There?", the Paws & Pastries series, and the beloved Rosemont series. Her novella The Christmas Club was made into a Hallmark Channel movie of the same name in 2019. Find her on social media and at  www.barbarahinske.com