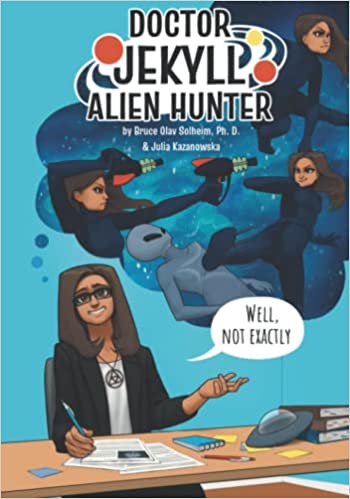 Book Review:  Dr. Jekyll Alien Hunter By Bruce Olav Solheim
California author Bruce Olav Solheim, after serving in the US Army as a jail guard and later as a helicopter pilot, earned his PhD in history from Bowling Green State University and is currently a distinguished professor of history at Citrus College in Glendora, California. He also served as a Fulbright professor in 2003 at the University of Tromsø in northern Norway. Bruce founded the Veterans Program at Citrus College and cofounded, with Manuel Martinez and Ginger De Villa-Rose, the Boots to Books transition course—the first college course in the United States designed specifically for recently returned veterans. His books to date include TIMELESS: A PARANORMAL PERSONAL HISTORY, TIMELESS DÉJÀ VU, TIMELESS TRINITY, ALI'S BEES, MAKING HISTORY, THE VIETNAM WAR ERA, WOMEN IN POWER, THE NORDIC NEXUS, ON TOP OF THE WORLD, ANZAR THE PROGENITOR, and now DR JEKYLL ALIEN HUNTER.
Continuing to impress and surprise, in this brief but pungent graphic novel, beautifully illustrated by Julia Kazanowska, Bruce shares that this is the initial issue of a series: 'Henna Jekyll first appeared in Snarc #2. She may be the first female person of color lead character in comics who is not a superhero.'
As we meet Henna we discover she in an anthropology professor at Cleveland State University, Ohio, the institution where her father taught and was ridiculed because of his belief in aliens. Through a series of brief tales, we learn that Henna's cat, Dr. Livingston, appears to be a reincarnation, that Henna can see angels (her deceased Jamaican mother appears to her as an angel), her introduction to stardust, the special amulet her father gave her, her book 'We Are The Aliens,' talking to aliens, experiencing Native American thoughts, the 'portal,' and more. In Henna's adventures 'she was hunting for the truth about the shared cosmic connections and how humans and aliens cold help each other,' the hazy boundaries between life and death, and reality and dream.
Inventive, entertaining, and posing ideas worthy of consideration, this is another successful venture for this fine author. Highly recommended – for youngsters and oldsters alike! Grady Harp Reivew.