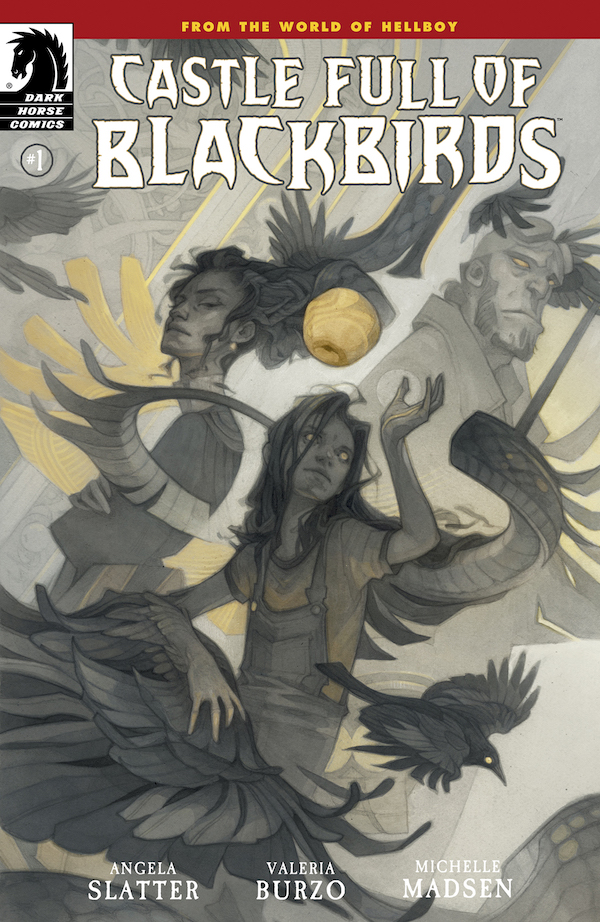 An all-new miniseries on sale from Dark Horse Comics this September
This September, legendary Hellboy creator Mike Mignola and acclaimed artist Valeria Burzo will be joined by award-winning novelist Angela Slatter for Castle Full of Blackbirds, an all-new miniseries from Dark Horse Comics. The four-issue miniseries will mark Slatter's comic-book writing debut. Mignola, Slatter, and Burzo will be joined by colorist Michelle Madsen, letterer Clem Robins, and cover artist Wylie Beckert. Vanesa Del Rey will provide a variant cover for issue #1.
Castle Full of Blackbirds continues the story of Sara May Blackburn, the fan-favorite character from Hellboy and the B.P.R.D.: The Return of Effie Kolb. When Sara May headed for New York after the events of The Return of Effie Kolb, she had one goal in mind: find the mysterious Miss Brook at the Linton School for Girls, and ask her what she knows about the mysterious powers that have plagued Sara May her whole life. But as is often the case with these things, the answers are not as simple as all that. Sara May is in for an education in more than just reading, writing, and 'rithmetic at the Linton School.
"I'm thrilled to have Angela writing this series and, honestly, right now I have no idea how that came about," said Mike Mignola. "She is one of the small handful of fantasy writers I really love reading these days, and we were lucky enough to get her to write a short story for the last Hellboy prose collection, Hellboy: An Assortment of Horrors. After that we somehow got to emailing, and that led to this. About halfway through writing The Return of Effie Kolb I knew our little witch girl was going to want her own series. I had an idea how something like that was going to start, but really had no idea where it might go. I DID know that as it was a book about a young girl, I wanted a female perspective. Someone who would bring something new to the Hellboy world while still playing with the history and mythology we've created for the place. Angela was the first (and I think only) name that sprang to mind. Fortunately she said yes, and here we are. I love what she's done and can't wait to see where this will go. My hope is that this is just the beginning."
Angela Slatter has won a World Fantasy Award, a British Fantasy Award, a Ditmar, two Australian Shadows Award, and seven Aurealis Awards for her short stories. Slatter's latest novel, the highly anticipated The Path of Thorns, will be published later this month by Titan Books. "If I could go back and tell Past Me that I'd be writing a story set in Mike Mignola's Hellboy Universe? I'm pretty sure Past Me would tell Future Me to GTFO," said Slatter. "I've had an absolute blast writing Sara May Blackburn, Miss Brook, and the Linton School for Girls (who are all witches, let's be honest)."
Castle Full of Blackbirds #1 will be published by Dark Horse Comics on September 14, 2022. It is now available for pre-order at your local comic shop.