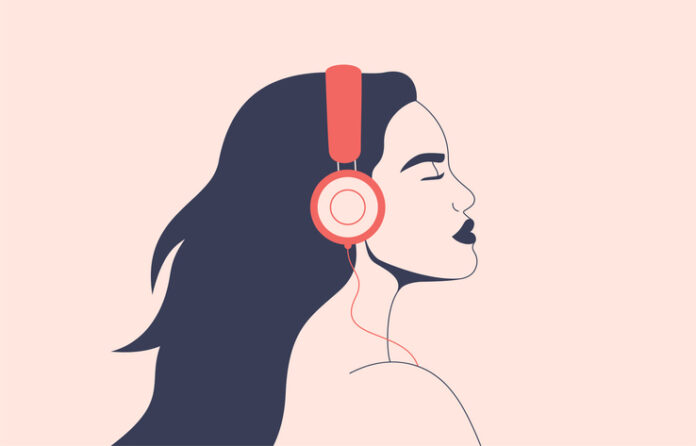 One of the most powerful ways we can experience the five elements is through music. Most of us have had the experience of using music as medicine. Maybe we have a playlist for our workout to push us to the finish line. There might be a song that always cheers us up when we're feeling low. There are songs that make us want to cry, inviting our stifled tears to finally flow. Certain songs can remind us of home, of love, and of love lost. Some songs bring inspiration. Some songs make us want to have hot, passionate sex.
Music is an incredibly effective medicine for moving our Qi. Qi is the animating life force that makes everything move—from our thoughts and feelings, to our bones and muscles. Qi is what makes us immediately vibe with some people, and why we feel "at home" in certain places. Qi is what makes us suddenly stiffen when someone walks a little too closely into our personal space, and it is what makes us melt into the arms of a lover. Qi makes plants grow and seasons change. Qi is an invisible current of energy that is everywhere, all of the time.
In classical acupuncture theory, the Qi of each of the five elements corresponds with a specific sound. We listen for this energetic quality in a person's voice, and in their pulse, to determine how that Element's Qi is flowing. The "sound" is one diagnostic clue for an acupuncturist to determine which Element needs to be amplified, sedated, or harmonized to create wellness.
I love using music as a DIY medicine for the Five Elements! Beyond the lyrics, melody and rhythm have the capacity to lift and expand our spirits or collapse us into sadness. Music moves the life force—it shifts our Qi and acts as a tuning fork for any of the Five Elements that needs a little balance.
Here are some tips for using your favorite music as medicine.
WATER
The sound of the Water element in a person's voice has a groaning quality. An example of this groan or croak is when your first words in the morning are, "that was a good sleep," before fully waking up. The sound of Water has a characteristic sinking quality, either in its low tones or in a voice that falls and sinks at the ends of sentences.
Musically, we can evoke Water Element Qi with songs that carry the vibration of sinking to the depths, slow rhythms that evoke stillness or trance, deep bass, and notes that accumulate in the lower register. Because the emotion fear is a signature of the Water Element, there is sometimes a sense of foreboding and warning in Water's music, like the eerie soundtrack in a horror movie. My high school students find the Water element in the haunting vibes of Trap music. Your Water element playlist will include music that helps you feel calm, serene, introspective, and connected to your power. Your playlist may also evoke stability, perseverance, and deep courage in the face of the unknown.
Examples:
"River" by Ibeyi; Album: Ibeyi, XL Recordings, 2014
"Magic' by Coldplay; Album: Ghost Stories, Parlophone/Atlantic Records, 2014
WOOD
The sound of the Wood element in a person's voice conveys focused intention and direction. Have you ever talked to someone whose words were so forceful and clear that you almost wanted to duck? That's the Wood element! Classically, a characteristically Wood voice is called shouting, which relates more to its quality—pointed and direct—than to its actual volume. A shouting voice can project clearly, which is why it bodes well for public speakers and others who lead with their voice. Shouting can also sound clipped or abrupt, which you can hear in an exaggerated way when you hold your breath and say, "The grass is always greener."
In music, we evoke the energy of the Wood element with songs whose lyrics inspire us to decisive action. Music with a strong staccato rhythm, and with an upward or climbing melody, is also evocative of the Wood element. My Wood element playlist includes songs that inspire me to action and give me a confidence boost. Use your Wood element playlist whenever you need motivation or to get up and at 'em! Wood Element music also tends to have explicit lyrics—by the time folks get to cussin', usually the Wood element is involved!
Examples:
"Dispear" by Nas and Damian Marley; Album: Distant Relatives, Universal Republic/Def Jam Recordings, 2010
"Scale" by Winter Flags; Album: Winter Flags, Dado Records, 2013
FIRE
The sound of the Fire element in a person's voice is "laughing," with highs and lows that are spontaneous, animated, or excited. You can hear a laughing voice by giggling to yourself as you exclaim, "This is the best day of my life!" You can tell when Fire is in the room when a person sounds like there is a smile in their voice, even and especially when they share something they are not happy about. In fact, a strong Fire element might make a person smile or laugh to mask deeper, more uncomfortable feelings.
In music, the Fire element shows up in any song that conveys the deeply felt emotions of the heart. Music with sensual rhythms that inspire sexual intimacy and expression are also Fire in nature. You can look at the Billboard top hits for any genre in any year and you will likely find some poignant love songs at the top of the list to stoke your Fire. Ecstatic trance music such as house, techno, drum and bass, and African drums resonate with the heartbeat and with the Fire element. Your Fire element playlist will include music that helps you feel joyful, energized, sexy, or loving.
Examples:
"Best Day of My Life" by American Authors; Album: Oh, What a Lie, Mercury-Island, 2013
"Dance Tonight" by Lucy Pearl; Album: Lucy Pearl, Virgin Records, 2000
EARTH
The sound of the Earth element in a person's voice is "singing," with melodic highs and lows that resemble a soothing lullaby. We can hear the Earth element in our voices by imagining we are asking a toddler, "Oooooh, do you have a boo boo?" We can hear the Earth element in songs that have a soothing, melodic quality. Music that conveys a sense of "roundness," and lyrics that expresses neediness, solidarity, or compassion also resonate strongly with the Earth element. We also hear the Earth element in songs that affirm our interdependence and the bonds that connect us as a family, tribe, nation, or human race. Earth element music helps us to feel gratitude and a sense of community within the human family.
Examples:
"Harvest for the World" by the Isley Brothers; Album: The Record Plant, T-Neck Records, 1976
"Kind & Generous" by Natalie Merchant; Album: Ophelia, Elektra Records 1998
METAL
The sound of the Metal element in a person's voice is "sighing" or "weeping," both sounds that carry a sense of longing, breathiness, and spaciousness. We can hear a Metal quality in our voices as we recall a favorite memory, take in a deep breath, and whisper, "I miss those days" as we exhale.
In music, the Metal element is present in any song that evokes a sense of wonder, grandeur, and reverence. Regardless of religious affiliation, the reverence of Metal can equally be experienced with gospel music and chanting Ohm. Songs with flutes and other wind instruments are Metal in nature, as are songs whose lyrics convey deep longing or grief. A Metal element playlist is perfect for whenever you want to feel connected to Spirit, or to someone or something no longer in your life. Sometimes, Metal element songs release our tears so that we can process our grief and sadness. Metal songs also instill a deep reverence for the power of the sacred.
Examples:
"Sueno Con Ella (I Dream of Her)" by Buika; Album: La noche ma?s larga, Warner Music Spain, 2013
"Bigger" by Beyonce?; Album: The Lion King, Parkwood Columbia, 2019
In my book In Our Element: Using the Five Elements to Unleash your Personal Power, I introduce a playlist of contemporary hip-hop, rock, and R&B songs that capture the energy and emotion of each element. This is just a starting point! I encourage you to create your own Music is Medicine playlists, and explore how the Elements show up as soul medicine for your emotional and spiritual wellness.
HERE'S A LOOK AT LINDSAY'S LATEST RELEASE::::IN OUR ELEMENT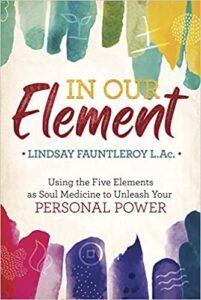 Immerse Yourself in the Wisdom and Healing Power of the Elements
All five elements live within you, and experiences like heartache, anxiety, and procrastination are signs that one of them is out of balance. This beginner-friendly book introduces you to each of the elements—Water, Wood, Fire, Earth, and Metal—and shows you how to use them to improve your mental, emotional, and spiritual health.
In Our Element weaves together Eastern medicine, Western psychology, Indigenous traditions, and African ancestral principles of spirituality. With a practical approach that incorporates journal prompts, flower essences, yoga poses, and music, Lindsay Fauntleroy teaches you how to tap into the five elements for a balanced and empowered life that aligns with your soul's calling.
ABOUT THE AUTHOR:
Lindsay Fauntleroy is a licensed acupuncturist and the founder of The Spirit Seed, a school that offers personal and professional development courses that are rooted in ancestral understandings of health, humanity, nature, and the cosmos. Lindsay is a certified instructor for the National Certification Commission for Acupuncture and Oriental Medicine (NCCAOM), as well as a facilitator of the Flower Essence Society's global practitioner certification program. Her approach to soul medicine emerged through over 15 years of clinical practice, Doctoral studies of Indigenous and African Diasporic psychology, and her commitment to community wellness. Lindsay's line of Five-Element flower essence remedies, the Elementals, is available nationally and internationally.
COPYRIGHT (2022) Llewellyn Worldwide, Ltd. All rights reserved.