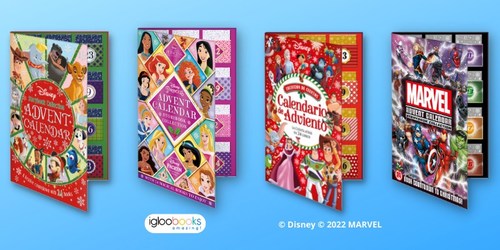 One of the most popular releases for Igloo Books will be coming to major retailers and online outlets in time for the 2022 holiday season. The Disney Storybook Advent Calendar, Princess Storybook Advent Calendar, and Marvel Storybook Advent Calendar each include 24 storybooks to unwrap every day leading up to Christmas, featuring popular characters from the franchises. New to 2022, Igloo Books is also publishing Disney Calendario de Adviento: Colección de Cuentos, which is entirely in Spanish. Retailers are recommended to place their orders now, in anticipation of the product selling out.
Entering the 5th year of publication, the Storybook Advent Calendars are bestsellers for the global leader of mass market and value publishing. Igloo Books have held the exclusive Disney publishing license in the UK since 2018, having expanded the contract into North America, SEA, and MENA. They have a large range of Disney-licensed books and gifts suitable for all ages. In 2021, over 950,000 copies were sold globally across the series, and they continue to drive sales for all major retailers and online outlets.
Paul Gregory, Igloo Books CEO said:
"Product 'game-changers' in publishing are rare, but our Disney Advent Calendars are just that, having seen double-digit growth year-on-year since their initial release in 2018. The recipe of Disney's wonderful characters, packaged within such a bold and exciting format, will ensure every child's countdown to Christmas is full of anticipation and fun!"
The Disney Storybook Advent Calendars are available to pre-order now for consumers on major online retailers and officially go on-sale September 13th, 2022. Retailers can place orders by contacting the Igloo sales team at inquire@igloobooks.com. Igloo Books is distributed in the US and Canada by Simon & Schuster.