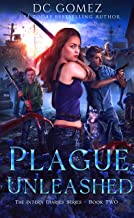 Plague Unleashed By D.C. Gomez
'Death's job is simple: she delivers souls to their final destination' – Unexpected fun!
Dominican born Texas author D.C. Gomez studied film and television at New York University, served in the US Army, and now enjoys her best-seller status as an author. Her books may be about dark themes, but her infectious humor makes them thoroughly enjoyable. Her short stories have appeared in collections – CUPID WORE DOGTAGS, FIESTA NIGHTS, TIS THE SEASON – and her novels are in series – CHARLIE'S FABLES, THE CAT LADY, ANOTHER WORLD, THE DARE COLLECTION, THE ORDER'S ASSASSIN, THE ELISHA & ELIJA CHRONICLES, and THE INTERN DIARIES, of which PLAGUE UNLEASHED is the second volume.
Gomez tilts attention instantly as she opens this novel – 'According to some studies, people have more heart attacks and strokes on Mondays than any other day of the week. It seems that the Monday-morning blues are truly dangerous to your health. I agreed with that sentiment, at least today. I usually didn't have much to complain about in my job. It wasn't like I needed to punch a clock Monday through Friday, or as if I lived in a cubicle world. I had a unique position: I was Death's Intern for North America. I might need to explain that a bit, since that sounds like I am an assassin or mercenary of some kind. We, myself and the other interns, are not allowed to kill…' Rumination alert!
The provided summary hints at the plot; 'Isis Black has survived eight months as Death's Intern. But not even all her training could prepared her for the madness of zombies running loose in Texarkana. "I swear, I didn't do it. It wasn't me. I did not start the zombie-apocalypse in Texarkana. But I'm planning to find out who did it, before the whole city is taken over by those mindless souls. Too bad the one person that might have the answer is the one being Constantine despises above all else, Death's Sister, Pestilence. How can one person be so absolutely despicable? Why does she need ten interns all calling her Mistress? She is evil. Pestilence swears she didn't cause the Plague. I'm blaming her anyway. Now all I need is more time and less five-year-olds trying to eat their teachers' faces. Scratch that, what I really need is a new job."
The author continues her investigation of the concept of Death and the interaction between life endings and soul capturing in this ongoing series. She provides a stage for a cast of inimitable characters, both super-natural and strange-natural, whose interactions provide one fine-tuned rollicking tale – the initial adventure of a series that now numbers six volumes! For those who love humorous paranormal fiction, this is a series to explore!