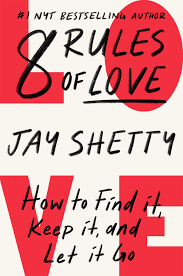 Simon & Schuster announced today that it will publish 8 RULES OF LOVE: How to Find It, Keep It, and Let It Go by Jay Shetty on January 31, 2023.
Shetty, thought leader and author of the #1 New York Times bestseller THINK LIKE A MONK, offers a revelatory guide to every stage of love, drawing on ancient wisdom and new science.
THINK LIKE A MONK was a global phenomenon and translated into over 47 languages during the pandemic when people were mired in lockdown and yearning for the kind of comfort and sage counsel that only a former monk could provide. That book taught readers to turn inward to sharpen their minds, open their hearts, and strengthen their resolve. With 8 RULES OF LOVE, Shetty turns his attention outwards to our relationships, showing readers how they can love themselves, their partner, and the world better than they ever thought possible.
As he did with THINK LIKE A MONK, Shetty offers advice from his unique background and experience, combining ancient wisdom with modern social science. In a world awash in guides to romance, 8 RULES OF LOVE is a genuinely fresh take. It doesn't include pickup lines or give advice on how to change yourself or your partner. Instead, 8 RULES OF LOVE is about embracing your preferences and hopes, so you don't waste time on people who aren't good for you. It's about learning how to display your values, and letting go of any anger, greed, ego, self-doubt, and confusion that clouds your heart and interferes with your ability to love.
Shetty lays out specific, actionable steps to help you develop the skills to practice and nurture love. He tackles the entire relationship cycle, from first dates to moving in together to marriage to kids to breaking up and starting over. And he shows how to avoid falling for false promises and unfulfilling partners, helping readers recognize when it's time to let love go. 8 RULES OF LOVE results in an inspiring and empowering read.
"This book is not about finding the perfect person or relationship and leaving the rest to chance. I want to help you intentionally build love instead of wishing, wanting, and waiting for it to arrive fully formed" writes Jay Shetty. "Nobody sits us down and teaches us how to love, so we're often thrown into relationships with nothing but romance movies and pop culture to help us muddle through. I want to help you deal with the challenges and imperfections we encounter on the journey to love. I want you to create a love that grows every day, expanding and evolving rather than achieved and complete. We can't know where and when we'll find love, but we can prepare for it and practice what we've learned when we find it.  Love is about learning to love ourselves in order to love others. I hope this book helps you do just that."
"Jay recognizes that real love is a process, not a fixed point. He warns us against seeking some sort of storybook 'perfect love,' but he offers something better instead—eight rules we can use to constantly improve how we love and how we are loved," adds Eamon Dolan, Vice President and Executive Editor at Simon & Schuster, who acquired North American and audio rights from Jim Levine, Principal at Levine Greenberg Rostan Literary Agency. Jay Shetty narrates the audiobook.
Jay Shetty is a #1 New York Times bestselling author, award-winning storyteller, podcast host, and former monk, dedicated to helping people train their mind for peace and purpose every day. In 2017, Forbes named him to their 30 Under 30 List for his game-changing impact in media. His viral videos have been viewed more than 10 billion times and he is followed by over 50 million people across social media. In 2019, Jay created On Purpose, now the world's #1 Health and Wellness podcast. He's been a keynote speaker around the world, invited to Google, Microsoft, Netflix and American Express, among many others. Over two million people have attended his Online School, and his Genius Coaching community provides weekly programming on health and wellness to thousands of members in over 100 countries. Visit Jay at https://jayshetty.me/;  Facebook: https://www.facebook.com/JayShettyIW; Twitter: https://twitter.com/JayShettyIW; Instagram: https://www.instagram.com/jayshetty; Spotify: https://open.spotify.com/show/5EqqB52m2bsr4k1Ii7sStc