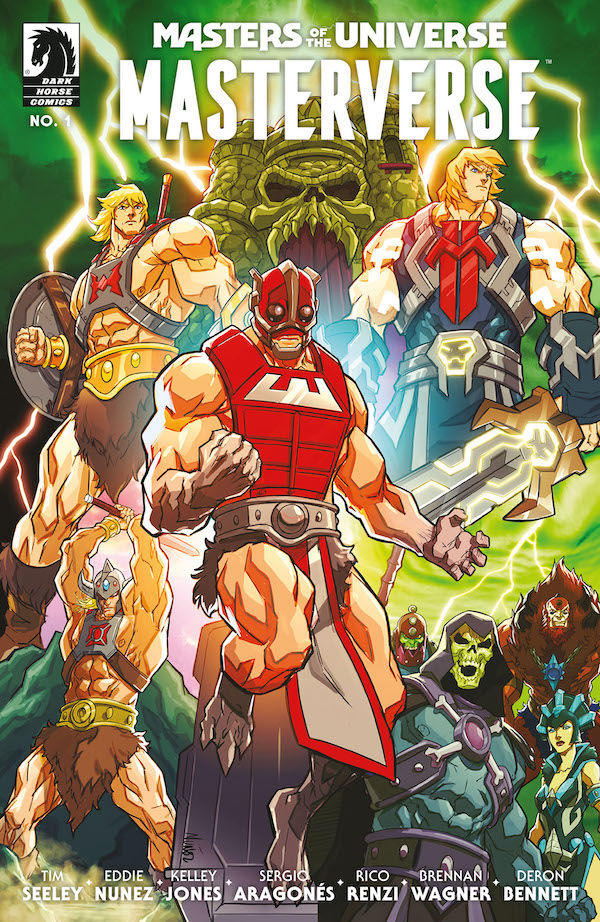 A brand new anthology series featuring art by Sergio Aragonés, Kelley Jones, Eddie Nuñez, Fico Ossio, David Rubín, Claudia Balboni, and more!
Masters of the Universe returns in a new anthology comic series in the Revelation universe, Masters of the Universe: Masterverse! The first issue is written by Tim Seeley (Injustice vs. Masters of the Universe, Masters of the Multiverse), with art by Eddie Nuñez, Sergio Aragonés, and Kelley Jones, and color by Rico Renzi and Brennan Wagner and it will also feature a variant cover by Mike Mignola and Dave Stewart! E.J. Su, Victor Santos, David Rubín, Claudia Balboni, Daniel Lopez, and Fico Ossio will have art in subsequent issues.
In the depths of Castle Grayskull, The Sorceress and Zodac debate the value of He-Man. To save the life of her champion, the Sorceress must take the Cosmic Enforcer on a tour of the multiverse. First, a tour across a world where a dim, barbaric He-Man bumbles through a world of annoying warrior goddesses and bored demons as he's pursued by a hungry green tiger in a tale drawn by the legendary Sergio Aragonés (Groo the Wanderer, Mad Magazine)! Then, a stop in an Eternia where the power of Grayskull summons an entirely different warrior in a horrific ghost story illustrated by Kelley Jones! Written by MotU alumni Tim Seeley with a framing story by Eddie Nuñez, this is an anthology series not to be missed!
Masters of the Universe: Masterverse #1 (of 4) will be available starting February 15, 2023 and is now available for pre-order at your local comic shop.
Be sure to follow Dark Horse Comics on social media for more news, announcements, and updates!
Praise for He-Man & Masters of the Multiverse by Tim Seeley:
"Whether you're a fan of all things He-Man or only have love for the 80's Filmation cartoon, the inside baseball nature of the story doesn't flaunt its knowledge in the reader's face to prove a point. It uses that information to craft an exciting story that all MOTU fans will thoroughly enjoy." –Forces of Geek
"Masters of the Multiverse #1 is a sharply written and skillfully drawn return to the world of He-Man, with plenty of new twists and old references." –Monkeys Fighting Robots
"If you've never been a He-Man fan, this is the book for you. You can learn all about the different versions of the property and pick the one you like, and go from there. If you're a hardcore fan, it's an absolute thrill to see the different versions of Masters interacting with each other. Bottom line: This is a great comic." –Comic Watch
"This is a fun, engaging adventure that doesn't get bogged down in treating the iterations of He-Man with kid gloves." –Super Powered Fancast