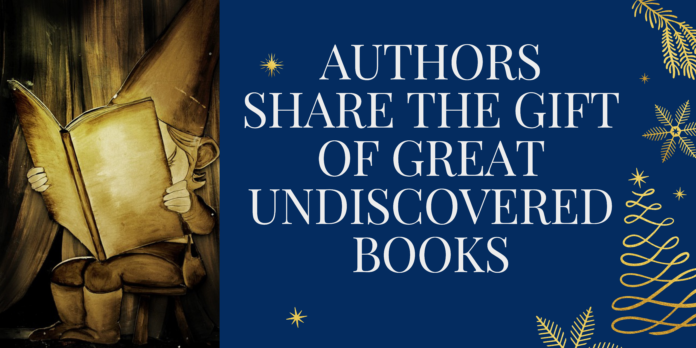 We ask authors to share their favorite book(s) they would gift to readers during this holiday season. 
Charles Breakfield and Rox Burkey recommend these books:
Thaddeus of Beewick – (book 1 of 3 of The College of Sorcerers Trilogy) By Louis Sauvain
(Rox Burkey) I attended an event in Denver that featured this book, so I bought it and fell into a masterpiece. Louis Sauvain creates a memorable world of fantasy, magic, and adventure, setting the foundation for a haunting series and coming of age. Thaddeus, the first of the young teen sorcerers-in-training, joins Silvestrus on a perilous journey to the college of sorcery. The story occurs during the Dark Ages when the two set out on their journey with Asullus, the sage mule. Silvestrus adds two more boys to the travel to the same destination. Along the way, they discover different worlds, people, and hints of budding magic. This epic fantasy has a wealth of places, immersing readers inside the pages with details of sights, sounds, smells, and feelings evoked by this master storyteller. Some locations increase readers' fears in the out as their heart beats triple, while other places seem worth languishing in forever.
The cast of characters is distinctive and memorable, especially Asullus, who takes on unexpected dimensions. Hints of the coming-of-age theme are captured in the story as the boys find themselves out of their element, forced to leverage resources unknown to them before this travel. Romance blossoms along the way and then vanishes as if wisps from a dream one will never forget. The boys grow along the way and begin to form a bond to last a lifetime. How long that life might be is unknown, yet growing up for these will be fraught with excitement, peril, and world-altering challenges.
I highly recommend this fabulous first book by Sauvain and this series, as it will keep you on the edge of your seat one second and chuckling the next. The unexpected yet perfectly woven words will wrap around your thoughts and carry you along to an unbelievable conclusion, yet begging for book two. Five stars seem far less than it deserves.
ABOUT THE BOOK: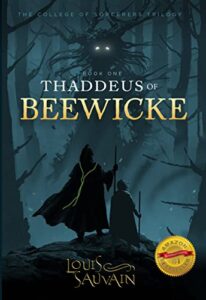 Thaddeus is threatened by forces both natural and Supernatural … can he survive?
The beekeeper's son has his life's plans in front of him. The Master Sorcerer, Silvestrus, paints a palette of wonder, promising the boy's parents he will learn an honorable trade and become his Apprentice.
It is an ideal opportunity for the young boy. But, it is an opportunity that is beset by beasts, brigands, a Daemon, a black-haired Courtesan, the King of the Moths, tree fiends, ghost legions and Greensward Aelvae, not to mention an attempt on his life by the Master Assassin of the Cin.
Can Thaddeus' aged Master protect him from a failed Sorceress?
Can the Apprentice fully trust a Master who conceals the fact that he is over a thousand years old?
Can Thaddeus persuade the long-dead Ghosts of the Lost Legion to fight for him?
Can Thaddeus trust the Street Thief who stole his father's gold?
Can the Prophecy make demands for the sacrifice of the Earth?
Can the most powerful form of Sorcery save Mankind?
With a blend of magic, friendship and blossoming romance, author Louis Sauvain delivers an heoric drop-in to drop-out epic fantasy journey in Book 1: Thaddeus of Beewicke.
AND>>>>
Liberty Bell and the Last American By James Stoddard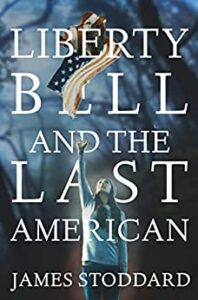 James Stoddard creates a non-stop quest to understand life, liberty, and the pursuit of happiness in a world centuries after an apocalyptic blackout, in a country known as Youessay. Liberty Bell, one of the Southern Bells, at seventeen, finds herself on a quest to find Fort Knocks with Antonio Ice after they fall from a train close to No Man's land. They meet Jessie James and the Rough Rider Gang and take refuge in their compound. The complex features a community of patriots believing in their forefathers' values. The buildings display multiple bear carvings that pay homage to Theodore Roosevelt. Throughout the book, the portrayal of historical figures becomes partially twisted, with overlapping references to the history before the blackout laced with puns and commercial jingles. For example, Liberty's sister is Tink. Liberty's family grew up reading and believing in one of the rare remaining books, 'The Americaneca,' that oddly recants history. She can read the old language, unlike most people on the continent. Antonio Ice has half a map that supposedly leads to the destination, but without Liberty's knowledge, he cannot translate or navigate to the destination. The tragedy, humor, and clashes with historical figures highlight Liberty's coming of age in a world that doesn't align with her teaching but demands her inner strength of conviction. Liberty finds something far more valuable than Fort Knocks, yet unexpected.
Stoddard delivers history that makes one think, and he includes the Constitution of the United States as an appendix for those who want to recall the detail. Each line of the historical document resonates like a bell of clarity to Americans who realize how vital the framework is to our freedom. Democracy against the frailty of government weaknesses comes to mind even as hope burns eternal for this future to never occur. Readers will find characters framed to perfection with youth and ideological passion driving them to the truth. I highly recommend this book to those who understand American history and people who value an imperfect world with a proud foundation of justice. For those not as familiar with American history, consider starting here on a journey that will take you a long way. Many thanks, Mr. Stoddard, for delivering five stars of inspiration.
ABOUT THE BOOK:::::
Americans love their Constitution. In seventeen-year-old Liberty Bell's era it has become a myth.
Centuries after the Great Blackout obliterates the world's digitized information, America's history is forgotten. Only confused legends remain, written in The Americana, a book depicting a golden age where famous Americans from different eras lived and interacted with one another during the same time.
Raised on the stories and ideals from The Americana, Liberty Bell joins secret agent Antonio Ice on a quest for her country. But in the Old Forest, forgotten technologies are reawakening. Historic figures such as Albert Einstein, Harriet Tubman, and Thomas Jefferson are coming to life.
The source of their return, a mystery hidden since before the apocalypse, lies waiting for Liberty. Her knowledge of The Americana holds the key to unraveling the riddles of the past.
Will the American continent return to the freedom of Liberty's forefathers? Or will it descend into a dark age of tyranny?The choices she makes will determine its fate. For, as The Americana says, "Those who don't know history are destined to repeat it—and forfeit all coupons, discounts, and travel miles."
Filled with quotations from exceptional Americans, here is a humorous and poignant celebration of America and its Constitution.