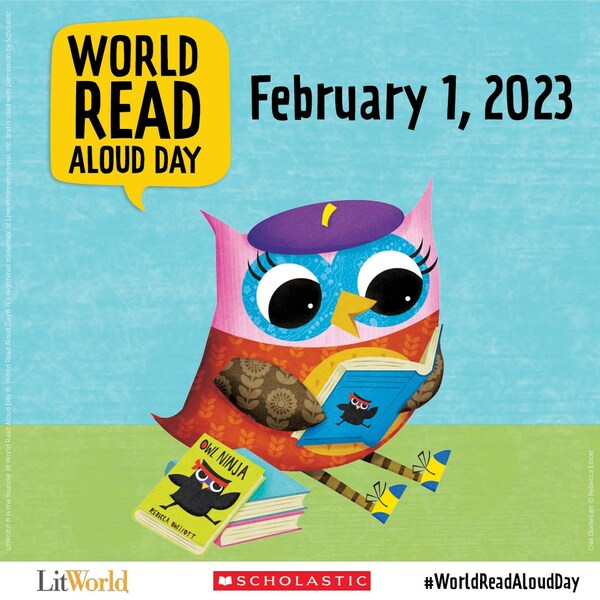 New York Times Bestselling Author of the Owl Diaries Book Series, Rebecca Elliott Serves as the 2023 World Read Aloud Day Author Ambassador.
In a World Read Aloud Day First, 24 Hours of Free, Virtual Programming including Live Author Events from Around the Globe will be Accessible through the Digital App Storyvoice, Scholastic's Dedicated Home for Live Read-Aloud Experiences
With families busier than ever, LitWorld®, the global non-profit advocating for the power of sharing stories and founder of World Read Aloud Day, and Scholastic, the global children's publishing, education and media company, are encouraging communities across the globe to slow down and connect through reading on February 1, 2023, for World Read Aloud Day (WRAD). Celebrated on the ground in 173 countries, the 14th annual celebration is going truly global with free, virtual programming spanning across time zones for 24 hours. Internationally, children's book authors will be reading aloud and sharing pre-recorded messages from 13 countries through Storyvoice, a digital app where each week 1,000s of children, classrooms and families read and interact live with Scholastic authors.
The WRAD-a-thon will kick off with a live read-aloud from Alpaca Picnic Panic by Australian author Matt Cosgrove at 11:00am AEST (local Sydney time February 1 / 7pm EST January 31), with events following from India, the UK, Kenya, South Africa, Mexico, Canada, the US, and Colombia. The day will include exciting moments like a read aloud of Owl Diaries #1: Eva's Treetop Festival by 2023 World Read Aloud Day Author Ambassador Rebecca Elliott with a special Spanish language reading by bilingual educator Barby Garibaldi, Brian Selznick reading from his upcoming book Big Tree, and a pre-recorded special surprise from Dav Pilkey. To view the schedule as well as the 2023 World Read Aloud Day Book Picks, a list of 30 books expertly curated by Scholastic to inspire reading aloud, and to access a free Virtual Kit that includes free activities, discussion guides and reading resources to help celebrate the day, visit: https://www.scholastic.com/worldreadaloudday.
"It's so exciting to know that millions of people are going to be coming together on World Read Aloud Day to celebrate the joy of story-telling and story-sharing, and I just feel so incredibly honored to be this year's Author Ambassador. I can't wait to bring The Owl Diaries along to the celebrations!" said Elliott, the award-winning creator behind the New York Times bestselling Scholastic book series the Owl Diaries currently being adapted as an animated series, titled "Eva the Owlet," for Apple TV+.
To access additional resources from LitWorld®, the founder of World Read Aloud Day, including activity guides, book lists, and printable bookmarks, visit: www.litworld.org/worldreadaloudday.
Caitlin Cassaro, Executive Director of LitWorld®: "More than a one-day literary celebration, World Read Aloud Day (WRAD) has morphed into a beautiful world-wide movement, touched and transformed by every child, community, and country that takes part and comes together for this special day. LitWorld® is honored to have sparked this movement in 2010, and now gets to join in and witness the many diverse stories that are shared on this day. We are incredibly thankful to our WRAD sponsors and partners for their valuable participation. I personally cannot wait for February 1st! I hope you will join me in celebrating and supporting the power of story-telling on this day and throughout the year."
Billy DiMichele, Senior Vice President, Creative Development & Corporate Social Responsibility, Scholastic: "Research continues to quantify the power of reading aloud, from the Scholastic Kids & Family Reading Report which strikingly shows the positive family moments it creates to new, preliminary findings from the University of Trento in Italy that reading to elementary and middle school students can boost intelligence and literacy skills, including vocabulary, comprehension and more. We are so excited to continue our relationship with LitWorld® and expand the impact of World Read Aloud Day with 24 hours of global, interactive programming, bringing communities together and sharing the joy of reading. Whether you're gathering in-person in a classroom, in your living room or at a local library, or you're connecting virtually, we've made sure you have the resources and the programming available to you to create a truly memorable day. Special thanks to our friends at LitWorld®, as well as our authors—including Rebecca Elliott, the 2023 Author Ambassador—whose enthusiastic support make World Read Aloud Day one of the best days of the year."
For more information about LitWorld®, visit: https://litworld.org