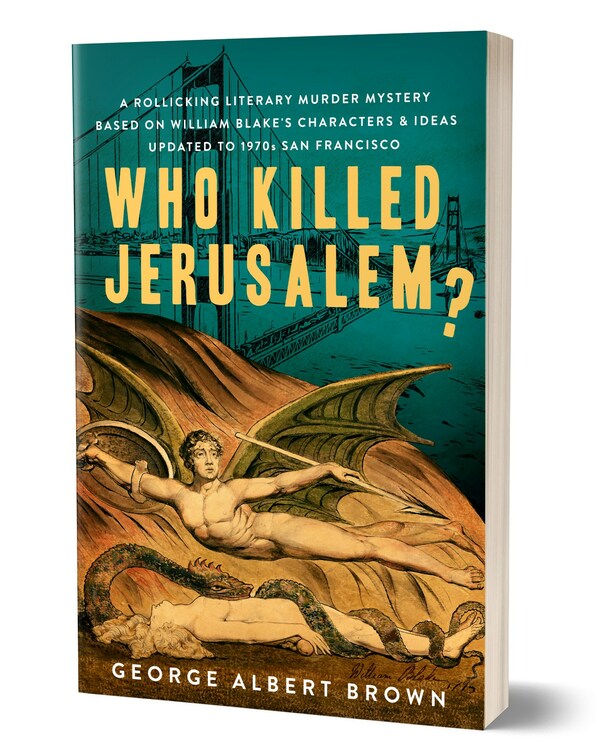 Bucking the trend of publishers cutting marketing budgets, Galbraith Literary Publishing is going big with grand plans in place to create immersive world-building for the readers of a new mystery novel, Who Killed Jerusalem?  With a forthcoming national, online mystery hunt with an eye-popping $25,000 prize, as well as a sweepstakes trip to explore literary San Francisco with former Poet Laureate Kim Shuck, there are a plethora of options for fans wanting to experience this "zany, inventive & multilayered fever dream of murder and mayhem" (KIRKUS REVIEWS).
Who Killed Jerusalem? by George Albert Brown is a literary murder mystery that is based on Romantic-era poet and philosopher William Blake but upended into the setting of 1970s San Francisco. When poet laureate Ickey Jerusalem is found dead in a locked first-class toilet on an arriving red-eye flight, protagonist Ded Smith must immerse himself in the world of beauty, eccentricity, and metaphysics that surrounds the poet as he interviews Jerusalem's coterie to find the answer to this one-of-a-kind "whodunnit."
With this impressive novel as its jumping-off point (backed by multiple glowing industry reviews), the author and publisher have teamed up with Otherworldly Adventures, creators of puzzles and immersive experiences, to host a nation-wide, online treasure hunt with multiple cash prizes for the winners that will go live this fall.
To keep up with information regarding the prize draw and the fabulously unique promotion strategy surrounding this book's release, please visit whokilledjerusalemprizedraw.com in order to sign up for the publisher's newsletter.