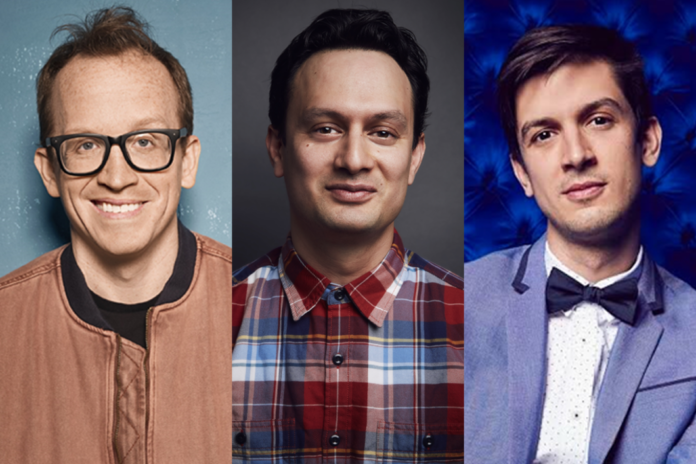 Audible is pleased to announce details for Audible Theater's next two shows at the Minetta Lane Theatre (18 Minetta Lane, between MacDougal & 6th Avenue – one block south of W. 3rd Street), continue Audible Theater's fifth season of shows at the Minetta Lane. Both productions will be recorded live at the Minetta Lane Theatre and released as Audible Originals, extending their reach to millions of Audible listeners around the world.
For three performances only from Friday, March 31 – Sunday, April 2, Chris Gethard performs A Father & The Sun.
Chris Gethard, the "significantly funny" (The New York Times) comedian, actor, and "cool kid of American hipster comedy," returns to the stage in a thoughtful and hard-hitting world premiere at the Minetta Lane Theatre. Known for the critically acclaimed special Career Suicide as well as his unforgettable characters in shows like The Office and Broad City, Gethard is now taking on his most prolific role yet: father. Charting the emotional experiences and revelations each new parent faces, A Father & the Sun is a hilarious ride bursting with palpable punchlines as Gethard tenderly explores generational differences, toxic masculinity, what it means to be a dad, and the truly unexpected joys of lawn maintenance.
Beginning Friday, April 28, Michael Cruz Kayne will perform his self-authored Sorry For Your Loss, directed by Josh Sharp. The six-week limited engagement will open Monday, May 8.
Like all the world's most insightful theatrical works, it began with a tweet. On the tenth anniversary of a profound loss, comedian Michael Cruz Kayne felt compelled to describe his feelings of grief in 140 characters or less. Much to his surprise, more than 140,000 messages of support came back to him from all corners of the globe. Overwhelmed by the response, the Late Show with Stephen Colbert writer and host of A Good Cry created Sorry for Your Loss, a sidesplitting, heartrending look at life—and death. This powerfully personal world premiere cuts through the platitudes, directly reaching out to anyone who has ever experienced loss—or will. So… everyone.
The creative team for Sorry for Your Loss includes Josh Sharp (director), Brett Banakis (scenic design), Rodrigo Muñoz (costume design), Cha See (lighting design), Connor Wang (sound design), and Aaron Rhyne (projection design). Garrett Kerr is Production Stage Manager. Technical supervision is by Hudson Theatrical Associates with general management by Baseline Theatrical's Andy Jones & Jonathan Whitton.
"Presenting today's brightest comedic voices is an exciting addition to our ever-growing live programming at the Minetta Lane Theatre," said Kate Navin, Head of Audible Theater. "We are delighted that Chris Gethard and Michael Cruz Kayne will take the stage to share their hilarious and nuanced work, allowing audiences in New York and listeners across the globe to experience thrilling live comedy."
Audible Theater's current and upcoming productions include:
The world premiere of Lucy, now playing through Saturday, February 25. Written and directed by BAFTA Award nominee Erica Schmidt (Cyrano, MacBeth), the production stars Drama Desk Award nominee Brooke Bloom (Cloud Nine, Everybody, Extremely Loud and Incredibly Close) and Lynn Collins (The Walking Dead, X-Men Origins: Wolverine, John Carter), along with Charlotte Surak (Waitress).
Drinking in America, beginning performances Friday, March 10 in a four-week limited engagement. Opening night set for Sunday, March 19. Written by Pulitzer Prize finalist Eric Bogosian and starring Andre Royo (The Wire).
A FATHER & THE SUN BIOGRAPHIES
 Chris Gethard is a comedian, actor, and podcaster. He's performed all over the world, hosts the Beautiful/Anonymous podcast, starred in a critically acclaimed HBO special a few years back, formerly hosted an eponymous TV show that was admittedly very strange, and has acted in movies and TV shows like The Office, Broad City, Parks and Recreation, Space Force, Don't Think Twice, The Other Guys, Anchorman 2, and a whole lot more. He's authored five books on top of that. He's one of those guys where you definitely know him from something, but can't quite remember what, and the person you're next to remembers him from something else entirely, but also can't quite remember what.
SORRY FOR YOUR LOSS BIOGRAPHIES
 Michael Cruz Kayne is a comedian, actor and writer based in NYC. He is currently a staff writer on The Late Show with Stephen Colbert, where his work has earned him a Peabody Award, a WGA Award and three Emmy nominations. Acting credits include HBO's The White House Plumbers and High Maintenance, as well as Apple TV's Severance and Helpsters, among others. Michael also has a Signal Award-winning and Webby-nominated podcast about grief, A Good Cry, with notable guests that include Stephen Colbert, Nicole Byer, Joel Kim Booster and Nora McInerny.
 Josh Sharp (Director) is a Brooklyn based comedian. He has been featured on Ziwe (Showtime), Search Party (HBOMax), 2 Dope Queens (HBO), The Opposition with Jordan Klepper (Comedy Central), and At Home With Amy Sedaris (TruTV). He wrote and starred in the upcoming a24 feature film Fucking Identical Twins.
TICKETING INFORMATION
Tickets for A Father & The Sun and Sorry For Your Loss are on sale now at www.Audible.com/MinettaLane.
Audible Theater is proud to collaborate with TodayTix to offer $15 mobile rush tickets for all three shows beginning at 10am each performance day. Tickets are available on a first-come, first-served basis exclusively through the TodayTix app.