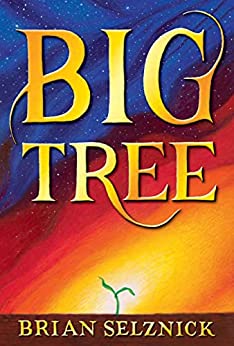 Scholastic, the global children's publishing, education and media company, announced today that three-time Academy Award-winning actress Meryl Streep will narrate the audiobook edition of 
BIG TREE
. The illustrated novel by #1 
New York Times
 bestselling and Caldecott Medal-winning author-artist Brian Selznick, will be released simultaneously in hardcover, audiobook, and ebook on April 4, 2023. For more about 
Big Tree
 and to listen to an audiobook excerpt, visit 
www.scholastic.com/bigtree
.
Meryl Streep said, "With Big Tree, Brian Selznick has created a profound and lovely book. His quiet message—that even the smallest among us can do something to save the world, and that we're all connected—is just what's needed for the moment in which we find ourselves."
One of this year's most anticipated books, Big Tree has garnered raves pre-publication. In a starred review, Booklist praised it as "an enthralling and expansive meditation on what it means to be alive on this planet." Gregory Maguire, author of Wicked, said that the book is "a labor of love—no, of passion—for the world and all the life it supports, Brian Selznick's Big Tree spreads its storytelling canopy to cover all of us. We're implicated, we're honored. We're family." Becky Anderson, owner of independent bookstore Anderson's Bookshop, said, "I cannot imagine another book more needed than Big Tree to help us save our planet."
Brian Selznick, who was awarded the Caldecott Medal for his innovative and genre-breaking The Invention of Hugo Cabret, said in a statement: "From Sophie Zawistowski to Julia Child, from Miranda Priestly to Margaret Thatcher, each character Meryl Streep creates is totally unique and profoundly alive. Listening to her give voice to nearly twenty-five new characters in Big Tree, including the Earth itself, is one of the great thrills of my life and something I can't wait for everyone to hear."
Lori Benton, President of Scholastic Audio, said, "As with all good stories, Brian Selznick's Big Tree illuminates and celebrates connections and all the wondrous ways they are formed, with each other, across generations, with nature and with the wider world. We are beyond delighted to have the incomparable Meryl Streep give voice to this epic story. Bringing these two masters of their craft together will make this an unforgettable listening experience."
About Big Tree:
The fate of all life on Earth may depend on the bravery of two little sibling seeds, Louise and Merwin, as they try to save the world while searching for a safe place to grow. But when a fire forces them to leave their mama tree prematurely, they find themselves catapulted into the unknown, far from home. Alone and unprepared, they must use their wits and imagination to navigate a dangerous world—filled with dinosaurs, meteors, and volcanoes—and the fear of never finding a safe place to grow up. In the spirit of such timeless classics as Charlotte's Web, The Wizard of Oz and Alice in Wonderland, Big Tree takes readers on a mesmerizing journey from the prehistoric age to present day. Filled with mystery and danger, humor, heart, and hope, Big Tree is a trailblazing tale that will captivate readers ages seven and up. The book will be printed on paper certified by the Forest Stewardship Council (FSC), the global standard-setter for responsible forest management.
About Meryl Streep:
For almost 45 years, Meryl Streep has continued to bring a varied and vivid array of characters to life in a career that has cut its own unique path from the theater through film and television. Educated in the New Jersey public school system through high school, Streep graduated cum laude from Vassar College and received her MFA with Honors from Yale University. She began her professional life on the New York stage, where she quickly established her signature versatility and verve as an actor. Within three years of graduation, she made her Broadway debut, won an Emmy for "Holocaust," and received her first Oscar nomination for "The Deer Hunter." She has since won three Academy Awards, and in 2018, in a record that is unsurpassed, she earned her 21st Academy Award nomination for her role as Katharine Graham in "The Post." Streep received a Lifetime Achievement Award from the American Film Institute in 2008, and the 2010 National Medal of Arts, a Kennedy Center Honor, and in 2014 the Presidential Medal of Freedom. In addition to her illustrious career as an actor, Streep has pursued her interest in the environment through her work with Mothers and Others, a consumer advocacy group that she co-founded in 1989 under the aegis of the National Resources Defense Council (NRDC). Mothers and Others worked for ten years to promote sustainable agriculture, establish new pesticide regulations, and ensure the availability of organic and sustainably grown local foods. Over the years, she has supported the work of many non-profit organizations in the areas of the environment including The Climate Emergency Fund, human rights and social justice, Women for Women International, among many others. Streep and husband Don Gummer are the parents of a son and three daughters, and proud grandparents of five children under three years of age.
About Brian Selznick:
Brian Selznick began his career as a bookseller at Eeyore's Books for Children in New York City and has worked as a puppeteer and a set designer. His books have sold millions of copies, garnered countless awards worldwide, and been translated into more than 35 languages. He broke open the novel form with his innovative and genre-defying thematic trilogy, beginning with the Caldecott Medal-winning #1 
New York Times
 bestseller 
The Invention of Hugo Cabret
, adapted into Martin Scorsese's Academy Award-winning movie 
Hugo
. He followed that with the #1
 New York Times
 bestseller, 
Wonderstruck
, adapted into the eponymous movie by celebrated filmmaker Todd Haynes, with a screenplay by Selznick, and the 
New York Times 
bestseller, 
The Marvels
. Selznick's two most recent books for young people, 
Baby Monkey
, 
Private Eye
, co-written with his husband David Serlin, and 
Kaleidoscope
, a 
New York Times
 Notable Children's Book of 2021, were both 
New York Times
 bestsellers. He also illustrated the 20th anniversary edition covers of J.K. Rowling's Harry Potter series. In praising his body of work, 
The Washington Post
 said, "Brian Selznick proves to be that rare creator capable of following one masterpiece with another." The 
Associated Press
 called Selznick "one of publishing's most imaginative storytellers." His collaborations include a reimagined Nutcracker at the Joffrey Ballet with Christopher Wheeldon and a screenplay of the forthcoming animated version of F. Scott Fitzgerald's 
The Great Gatsby
 with William Joyce as director. Selznick and his husband divide their time between Brooklyn, New York and La Jolla, California. Learn more at 
http://mediaroom.scholastic.com/brianselznick
.