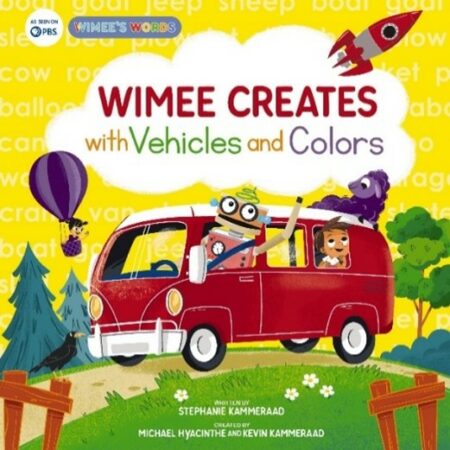 Zonderkidz is pleased to announce a new series of books featuring Wimee the Robot, a nationally-recognized character as seen on PBS-TV affiliates in the kids TV show "Wimee's Words." The first book in the series, Wimee Creates with Vehicles and Colors, arrives in bookstores and online July 18, 2023.
This series of books based on the Wimee character will be both entertaining and educational in nature. The simple concepts and bright, unique characters will appeal to children ages 3 and up and inspire creativity and learning.
Created by Michael Hyacinthe, an entrepreneur and U.S. Navy Seabee veteran, with master puppeteer Kevin Kammeraad, and written by Stephanie Kammeraad,  this simple concept book teaches rhyming and colors, as well as prepositions and action verbs, and encourages readers to create their own unique rhymes and images. In addition, Wimee Creates with Vehicles and Colors includes a resource for parents and educators on how to use Wimee creatively to further learning and grow imagination. The illustrator is Mattia Cerato.
This three book deal with Hyacinthe of Wimage LLC was acquired by Katherine Jacobs, Senior Acquisitions Editor for Zonderkidz/HarperCollins, with Karen Neumair of Credo Communications representing the creators/authors. Additional announcements on future titles will follow in late 2023.
"This partnership with Michael and the Wimee team and their unique brand has far-reaching potential. We see this as a perfect fit for our mission of providing imaginative, innovative, and educational books that inspire young readers. Our hope is that these books will be the first step in a long and fruitful collaboration," says Megan Dobson, Vice President and Publisher of Zonderkidz.
Hyacinthe's passion for this project shines: "Eventually, our goal would be to expand this brand in formats varied from leveled readers to activity books to digital-only titles and premium picture books." More information on Wimee, and the creators can be found at www. https://wimee.tv
The American Library Association (ALA) has selected the creators and author to present at the annual ALA conference in Chicago June 25 on "Securing Community Library Partnerships and Scaling Up to a National Presence." Thousands of librarians will be able to hear the Wimee team's inspiring story and learn how to replicate that success for their own library systems. The TV show "Wimee's Words" first began during the pandemic as a way to connect younger library patrons with innovative learning programming and is now being watched in over 30 markets on PBS stations. Kent District Library, in Kent County, Michigan, is the program's library partner.
The book is now available for pre-orders wherever books are sold. Advance review copies of the book and media interviews are available upon request; please contact Publicity Director Jessica Westra at jessica.westra@harpercollins.com.
About the Creators/Authors: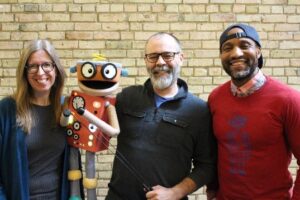 Michael Hyacinthe is the CEO of Wimage, LLC, the creator of Wimee the Robot. He is a veteran of the U.S. Navy and uses his experiences with wounded veterans to find creative and therapeutic outlets for them to express themselves. As an entrepreneur, this effort connecting with veterans compelled him to create the Wimage application, which he then discovered was a good fit for the educational market.
Kevin Kammeraad is the co-producer and lead puppeteer on the Wimee's Words show and serves as a Bookmobile Operator for the Kent District Library as part of their Community Engagement Team. Kevin is a master puppeteer and has spent his career performing educational shows at schools, libraries and festivals around the country.
Stephanie Kammeraad is the co-producer and one of the content organizers and writers for the show. She holds a degree in Special Education and has taught and coordinated numerous classes and camps for kids in preschool through middle school throughout West Michigan. Michael grew up in Bronx, NY, Stephanie in Metro Detroit, MI, and Kevin in West Michigan. They all currently live in Grand Rapids, MI.
About Wimee the Robot and Wimee's Words: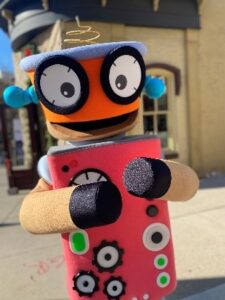 Wimee is a fun, lovable robot that inspires kids to learn through creativity!
Wimee's Words is an interactive mixed media show for preschoolers that inspires kids to learn through imagination, vocabulary building, and storytelling through playful puppetry, silly music, wacky wordplay and fun technology. Based in Grand Rapids, Michigan, the show can be seen on numerous PBS TV affiliates around the country: https://www.pbs.org/show/wimees-words/