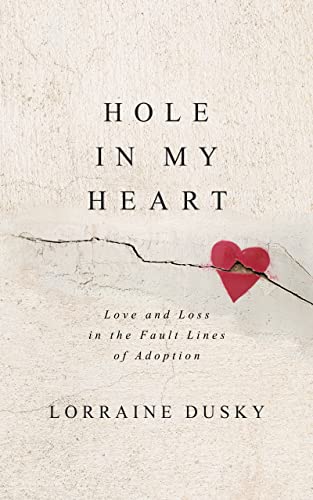 A new edition of Lorraine Dusky's memoir, HOLE IN MY HEART: Love and Loss in the Fault Lines of Adoption, is now available on Amazon.
Dusky, an award-winning journalist, writes that, "The trauma of relinquishing a child and the adoption trauma experienced by that child persist throughout their lifetimes."
Her memoir explores the hard realities of adoption. These include adoptees' feelings of obligation to their adoptive parents. Such feelings mean that many adopted adults, though curious, are hesitant to search. "By the time they work up the courage, it's too late," Dusky says. "They're having a reunion with a grave."
On the flip side, there are some mothers who reject reunion. "Opening themselves up once more to the pounding grief, embarrassment, and disgrace of that time in their lives became unthinkable," Dusky writes.
The author's own story begins in the days before Roe v. Wade. Twenty-two and a journalist just starting her career, Dusky says that when she found out she was pregnant, she "freaked out, but very soon came to want to nourish and love my baby and keep my baby. Giving her away seemed like a crime against humanity."
In 1966, women who surrendered children had no say in where those children went. Nor could they hope that their adult children would find them. Natural mothers' names were erased from birth certificates. State laws made it illegal for adoption agencies to divulge identifying information.
"I was aghast," Dusky says. "I couldn't believe the law would be so cruel."
Years later, after her pioneering memoir, Birthmark, was published, Dusky contacted the adoption agency. They stonewalled, citing privacy concerns. It turned out that "The parents, through their doctor, had already tried to locate me," she says. Her daughter had epilepsy. From that point on, Dusky became part of her daughter's life, a life that came to a tragic end.
According to Elizabeth Jurenovich, director of Abrazo Adoption Services in San Antonio, Dusky's memoir, HOLE IN MY HEART, is "a painfully honest reminder of the collateral damages suffered by parents and children amidst even the best-intentioned of adoption decisions."