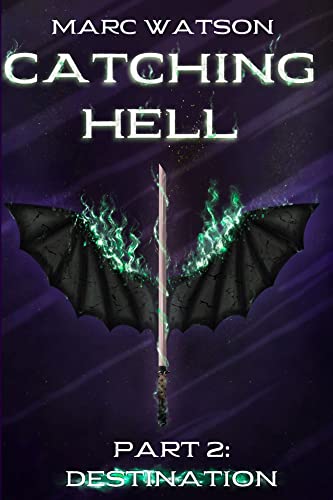 CATCHING HELL PART 2 By Marc Watson
A critical blow has been dealt to the robotic Army of the Old, but at a great price. Broken and weary, best friends Johan and Aryu have been separated while chasing forces from the distant past that they both fear.
Aryu, the man with wings, pursues the enemy while he slowly slips into the enticing magic and mystery of the Power, led by the great phoenix Nixon Ash.
Johan stands on the steps of Bankoor, a futuristic city full of wonder and mistrust. Here he must make his stand to avenge his destroyed home and find his friend.
As the gap between the brave warriors closes, the worlds of technology and magic will clash!
Amazon.com: Catching Hell Part 2: Destination eBook : Watson, Marc, Fiction, Fluky: Kindle Store
Catching Hell Part 2: Destination eBook : Watson, Marc, Fiction, Fluky: Amazon.ca: Kindle Store
ABOUT THE AUTHOR:
Marc Watson is an author of genre fiction of all lengths and styles. He began writing at the age of 15 and continues to be a part-time writing student at Athabasca University. He has been published on flash fiction site www.101words.org (find his stories here) as well as comedy site www.thecorrectness.com.
Marc lives in Calgary, Alberta. He is a husband and proud father of two. He is an avid outdoors-man, martial artist, baseball player, and lover of all Mexican foods.
He can be found at online www.marcwatson.ca, as well as on Facebook at www.facebook.com/marcwroteabook, and on twitter at @writewatson.