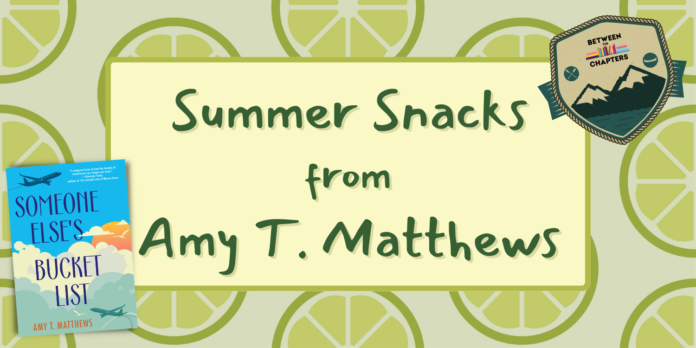 One of the all-time best things about summer is the long, languid warm evenings and the opportunity to have friends and family around for a lazy dinner. During the rest of the year life gets so crazy that I don't often have time to enjoy cooking, but summer is an enchanted time, where life slows down enough for me to throw on an apron and have some fun.
This recipe for a nacho bowl came from an Anna Jones (https://annajones.co.uk) book my friend gifted me, which I've since bought for many friends because I love it so much. The book is called A Modern Way to Cook. This is such a light, zesty twist on nachos—and it's healthy too! I know there a lot of people in the world who aren't immediate fans of kale—but trust me, it works in this recipe. I'm also throwing a margarita recipe at you, because who can have nachos without a margarita? I'm also going to recommend starting with the margarita so you can sip it while you cook!
– Amy T. Matthews
Classic Margarita
Ingredients:
50ml tequila
25ml lime juice
20ml triple sec
Lime wedges
Instructions:
Tip salt onto plate
Rub lime wedge around rim of glass and then dip rim into the salt
Fill cocktail shaker with ice
Pour tequila, lime juice and triple sec into the shaker
Shake until the shaker feels cold in your hand
Strain into the glass and enjoy!
Cashew, Kale, and Lime Nacho Bowl from Anna Jones
Ingredients:
100g raw unsalted cashews
6 soft wholemeal tortillas
Olive oil
½ teaspoon smoked paprika
200g kale
2 limes (plus extra for serving if you wish)
2 green chilies
1 bunch cilantro
2 pre-cooked corn on the cob
1 ripe avocado
100g grated Manchego cheese (you can use cheddar if you don't have Manchego)
Instructions:
Pre-heat oven to 390F/200 C (higher if your oven isn't fan forced)
Fill and boil kettle, and get ingredients together
Put cashews in bowl, cover with boiling water from kettle, and leave to soak
Stack tortillas and cut in half, then quarters, then eighths until you have tortilla-shaped pieces
Put tortillas on a large baking tray (try not to overlap them too much)
Drizzle tortillas with olive oil and sprinkle with salt, pepper and smoked paprika
De-stem the kale and rip into pieces
Put the kale onto another large baking tray and grate over the zest of one lime, then drizzle with olive oil and sprinkle with salt and pepper (the lime zest is what makes this taste fabulous, so don't skimp!)
Put both trays in the oven for 10-15 minutes until tortillas are browned and kale is crispy
While the trays are in the oven you can make the cashew cream
Drain your cashews and pop them in a blender with the juice of your zested lime and a pinch of salt (don't blend yet)
Roughly chop the green chilies and add to the blender (remove seeds if you like less heat) and add the stalks from the cilantro (don't blend yet)
Pour in four and a bit ounces of water, and now blend on high for a couple of minutes (you want it to look smooth and creamy – and it should be bright green)
Taste and add more salt, lime or chili (adjust to your personal taste). Also add more water if it's a bit too thick
Now cut the kernels from your pre-cooked corn on the cob
Take the stone out of your avocado, slice it, and squeeze the rest of your lime juice over it
Once the tortillas and kale are ready, remove from oven and scatter with the crispy kale and grated Manchego cheese
Put the tray under the grill, and grill until the cheese is melty and starting to bubble
Take the tray out and spoon on the cashew cream, then scatter the avocado, corn kernels, and chopped cilantro over the lot
Serve with lime wedges and pour yourself another margarita because you're ready to eat!
NOTE: If you're in a rush or feeling extra lazy, ditch making the tortillas yourself and just use store bought. I won't judge you.
Here's a look at Amy's latest release: SOMEONE ELSE'S BUCKET LIST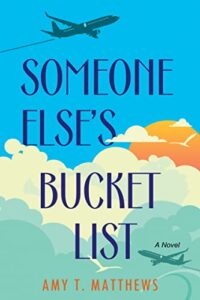 Readers of Josie Silver and Rebecca Serle will adore this bingeworthy, bittersweet P.S. I Love You for the digital age. After the untimely death of her outgoing, hugely successful influencer sister, an introverted woman takes on the terrifying challenge of completing her sister's bucket list as the world watches, in a bid to save her family—and others—from the crippling medical debt her cancer battle left behind.
My dying wish is for you to finish my bucket list. I refuse to die without knowing this list will be completed. And I refuse to die without knowing my family will be okay . . .
Jodie Boyd is a shy and anxious twenty-something, completely unsure what to do with her life. Her older sister, Bree, is an adventurous, globe-trotting, hugely successful Instagram influencer with more than a million followers. She's the most alive person Jodie knows—up until Bree's unfathomable, untimely death from Leukemia. The Boyds are devastated, not to mention overwhelmed with medical debt. But Bree thought of everything—and soon, Jodie is shocked by a new post on her sister's Instagram feed.
The first of many Bree recorded in secret, the post foretells a jaw-dropping challenge for Jodie: to complete Bree's very public bucket list. From "Fly over Antarctica," to "Perform a walk-on cameo in a Broadway musical," if Jodie does it—and keeps all Bree's followers—a corporate sponsor will pay off the staggering medical debt. If she gains followers, the Boyds won't be the only ones to benefit. It's crazy. It's terrifying. It's impossible, immoral even, to refuse. So, despite the whole world watching, Jodie plunges in, never imagining that in death, her sister will teach her how to live, and that the last item on the list—"Fall in love"—may just prove to be the easiest.