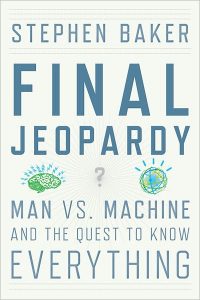 The Future is Here! And it just won on Jeopardy! It was so exciting to watch IBM's Watson playing against two of the greatest Jeopardy players of all time and I couldn't wait to devour this book!
Author Stephen Baker was invited to the IBM lab to watch the evolution of the creation of Watson and watch as the brilliant scientists there prepared the amazing computer to do something I never thought I would see in my lifetime, play on the popular game show Jeopardy!
The book's narrative is easy to follow for us non-scientific types and full of enthusiasm and excitement that mirrored and even inspired my own. The book addresses the questions that I'm sure we all have on our minds like how might this affect society, jobs, etc. But it also included things I would never have considered like how it might affect education. A book about computers that's actually exciting to read to the point I wish I could give a copy to all my friends! Who would have ever thought that possible? Maybe those smart guys over at IBM? LOL Kudos to the author for such a fun and informative book!