Second Chances At Love – From the heart of Jennifer St. Giles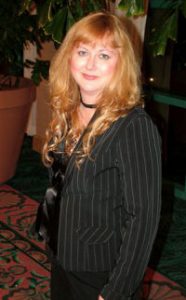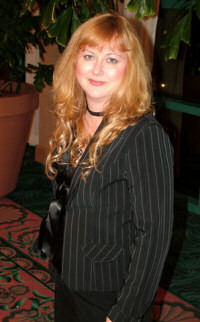 Spring is in the air and here in Atlanta brightly colored blooms are everywhere. The energy and excitement of life renewed is emerging from this chilling winter and I feel as if I am right there living the moment of revival as well. Authors live a real life and often have to write despite a multitude of problems, and I am no exception. We often don't share those problems, but this year, I will for a number of reasons.
First because I want everyone to know there is healing and hope and second chances no matter what the heartache. Next month, April, will be the two year mark of separation/divorce from a 27 year marriage and this spring my heart completely full of hope for the future. Hope that I will have a second chance at finding a person to share life and love and laughter with, one that will build good things to my heart and help me create and inspire. I haven't ventured out yet, but when I am ready to do so, my heart is whole.
April will also mark the re-release of Midnight Secrets, Book One of the Killdaren Trilogy, which Samhain Publishing is giving a second chance at love as well. The wonderfully sexy and alluring cover is like breath of fresh air, and I am hoping it, along with the remake of Jane Eyre hitting the theaters, will bring a resurgence of readers to the classic gothic genre, the inspiration for my historical suspense novels. Here is a taste and the blub of Midnight Secrets:
"A leather gloved hand clamped over my mouth and nose from behind. An arm wrapped around my stomach and arms, trapping me, and jerking me back against the hard body of a large man. I couldn't breathe, I couldn't scream, I couldn't reach my pistol. I could barely move. Terror flamed in my breasts and fired through my veins. The man pulled me deeper into the darkened room, shutting the door. Dear Lord. Is this how Mary disappeared?

Wrenching violently, I tried to free myself, but the man clamped me tighter to him, crushing me with his strength. I pressed my head back, fighting to ease the pressure on my face enough to breathe. In my panic I remembered the size of Jamie Frye, his anger, the veiled threat that if I were to die none would care. Then the hand covering my mouth and nose loosened enough for me to suck in blessed air. I smelled leather, mint and something frighteningly unknown, but compelling enough that I drew another needed breath.

"The scent of roses," a deep, cultured voice with a hint of an Irish burr whispered close to my ear, and I knew it wasn't Jamie. "The feel of a woman." As he spoke, his arm about my stomach slid higher, pressing beneath my bosom, almost caressing the undersides of my breasts a moment. I rammed my spine back, lifting myself to my tiptoes, trying to keep from knowing the warmth of his muscled arm so intimately against me. This brought his mouth and the heat of his breath closer to my ear.

"The actions of a thief." His tone was soft, menacing. My heart thundered harder, more painfully. "Will you come to such an ill fate, lass? 'Like a rose, she has lived as long as roses live…the space of one morning'? Or will it be even less for you?"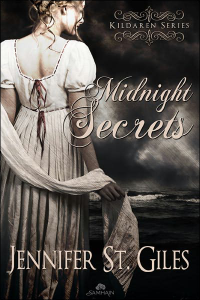 The blurb:
Is he her darkest dream…or most terrifying nightmare?
Cassiopeia's dreams have never been her own. They are harbingers of death. Yet when she learns her gentle cousin, Mary, has disappeared from a remote castle on the Cornish Coast, the official story doesn't fit with Cassie's prophetic dream.
The mystery compels her to leave the safety and middle-class comfort of Oxford to take a job as a maid in the house of Killdaren. There she discovers more than the daily indignities the working class must endure. There's a darkness surrounding Sean Killdaren, a man born with his hands at his twin's throat. Whispers of the murderous Dragon Curse…and an aversion to daylight that adds vampire to spine-chilling rumors.
When Cassie encounters him in the shadowy corridors, his touch should make her tremble in fear. But that's not what makes her knees shockingly weak. It's the spell of desire he casts with his wicked green eyes…and the small acts of kindness that soften her heart.
The closer she comes to the truth, the greater the danger. Mary isn't the only woman lost to the Killdaren brothers' curse. And as a killer lurks ever closer, Cassie wonders whom she can trust…and if she will be the next victim.
Warning: Contains a prim and proper advice columnist who finds herself in situations not covered by the rules of etiquette, and a deliciously dark hero who sees more than a maid in itchy wool…he sees the only star that lights his tortured life. Lace hankies strongly recommended.
Hope is what Midnight Secrets is all about and I hope you will choose to give my series a second chance at love. You can pre-order on Amazon today!
Secondly, I share my story because this summer in New York at Romance Writers of America's National Conference, I will be doing a workshop called Where has all the Romance Gone? Writing through Separation and Divorce. I want others to know how hope can bring light into life's darkest moments.
In other news I am running a spring special on the first book in the Weldon Brother's Series, Wild Irish by Jennifer Saints will go on sale at Amazon and Barnes and Noble on Thursday for $2.99!
And for all of you J.L. Saint thriller fans out there, the sequel to Collateral Damage is called Tactical Deception and it will be released in November 2011, the same month that the print version of Collateral Damage will hit the shelves.
And thirdly, I share my story because I'm inviting you to tell me about your second chance at love story either here or email it to jenniferstgiles.com and I will post them on my website.  Three lucky winners will receive an ARC (Advanced Reader Copy) ebook of Midnight Secrets.
Enjoy the magic and the love then remember to Go Forth, Dream, Believe, Create, Inspire, Love, and Heal.
Jenni (Jennifer St. Giles, J.L. Saint, Jennifer Saints)
About Jennifer St. Giles
This bewitching Georgia Peach is anything but ordinary. She's a mother, nurse, thriller writer, award-winning paranormal/romance/contemporary author, passionate patriot, event planner and more! She's also home schooled three children and is the Vice-President of a charitable foundation which helps women and children's causes and in her spare time she writes screenplays!
J.L. in her own words:
Under a barrage of nagging by BFF's, I've been told my bio was boring, not at all a reflection of just who I am beneath the surface, which is a compliment…I think. So, I promised to rev it up a bit. Thus the reason why I'm sitting here staring at the computer screen with nothing but crickets in my brain. I'm totally into making up wild and interesting stories with a lot of heart thrown into the mix, but telling people about myself isn't so easy. What can I tell you about me?
I don't play video games or watch horror because I can't take the heat, but give me a kickass thriller every minute of every day and I am there. Be prepared for a Hoover Dam meltdown if you're with me and the movie is sad. So, to avoid disaster, I love romantic comedies.
Never coffee. Always tea. Never beer. Always champagne. There's more, but hey, gotta save some secrets until after the first date, right?
I grew up in Miami. Went to nursing school in Georgia, where I now reside. I raised and home schooled three great kids. I wrote for nine years before I sold a book, which made me a firm believer that a person should NEVER NEVER NEVER GIVE UP ON THEIR DREAMS.
I remember my father's remark after a particularly scandalous story about one of my ancestors, a story that involves a conspiracy, treason, betrayal, murder, and execution, a story that after a drink or two in the bar, I might be enticed to share. Anyway, what my father said was, "You can't keep a good man down." And I kind of see that in myself. Not that I am necessarily good, because the definitions of moral words are often relative, but I do persevere, and I am resilient. Nothing in life has ever worked out the way I planned for it too. In many areas of my life, I have yet to reach the level I thought I would, of where I envisioned I would be, but I haven't given up. I won't give up. I continue to work hard and do everything I can to help who I can and to make my dreams come true.
Besides great kids, family, and friends, that perseverance has so far garnered me a USA Today Bestselling tag and twelve plus books on the shelf in a number of genres (contemporary romantic suspense, historical suspense, paranormal suspense, and contemporary romance). I've won a number of writing awards, two National Choice Awards, three Maggie Awards, a RT Book Club Reviewer's Choice Award, the Daphne du Maurier Award, the Marlene Award, and the Golden Heart Award to name most of them. I work with several amazing women in a charity to raise money for a shelter that helps abused and homeless women and children. I've revived my nursing career after a long hiatus, have renewed my license, and will find the right job for me.
I know there are many more great things ahead.
I write romance because I believe that when you boil all of life down to its essence, if you take a human being to the very core of his existence, then you will find that what matters more than anything else is to be loved and to give love.
Life is all about choices and to pull from one of Erich Fromm's quote, I choose to create and to love rather than destroy and to hate.
I hope you enjoy my stories.
Go forth, dream, believe, create, inspire, and love,
Jenni (J.L. Saint, Jennifer St. Giles, Jennifer Saints)
PS. Writers don't develop split personalities. They develop pseudonyms.