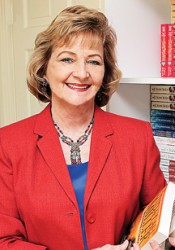 As the president of Nancy Berland Public Relations, Inc., Nancy Berland directs a team of professionals who get their kicks out of helping authors achieve their career objectives and helping publishers find a broader audience for their authors' books.
Voted Best of the Best Publicist by RWA's Published Author Network, Nancy is a graduate of the University of Oklahoma School of Journalism who has served as a newspaper feature writer, restaurant reviewer, national trade association public relations director, corporate public relations consultant, speech and magazine feature writer and romance author.
Functioning as a member of the author's publishing team, along with the agent, editor, publisher, house publicist and web designer, Nancy and her talented staff of seven represent romance, women's fiction, Christian, mystery, thriller, suspense and non-fiction authors, such as Nancy Bush, Marie Bostwick, Robyn Carr, Sabrina Jeffries, Nicole Jordan, Debbie Macomber, Linda Lael Miller, Carla Neggers, and Hank Phillippi on an ongoing basis. They also represent many other talented authors on a contract basis and work with publishers as well.
Since Nancy launched her firm in 1995 she has seen a lot of changes in publishing, but she says this year takes the cake. Her advice: Don't blink, or you'll miss a new development, such as the latest, hottest trends: Transmedia and Multimedia.
The sweet spot in author promotions is when budget meets goals and expectations. But finding the right publicist for an author is like choosing the right agent–or spouse. Unlike finding your life's partner, however, the search for a publicist is part of the business of publishing and needs to be conducted accordingly. Join us in Los Angeles, where we'll help you learn the pitfalls in the process–and the rewards when the decision is the right one for you.