RT Booklovers Convention
by Anne Elizabeth
Greetings from sunny California!
Well,  I'm home on our mountaintop and curled up in front of a roaring fire in the woodstove with my husband and our English Yellow Labrador dog.  Dayna Linton asked me to give a report of my favorite parts of the RT Book Lovers Convention.  My number one favorite aspect of the event was…seeing friends! There is never enough time to visit with everyone but I was able to catch up on some of the latest news.  Congratulations to those individuals who have new babies or bundles of joy on the way, grown kids getting married, job changes, new houses, new books, and even new stores. Thanks for sharing the news and your excitement!
Among the hugs and chats, I also led and moderated several workshops on graphic fiction, which is basically the topic of comics, manga, and graphic novels.  One of the highlights was introducing Dean Koontz.  He is a very engaging speaker – definitely as satirical and compelling as his books – and had everyone in the entire room laughing during his workshop.  Another awesome moment was hanging with super-fab writer Gregg Hurwitz (TV series "V" /Punisher comics), David Uslan (Graphicly), and my publishers David Dabel and Derek Ruiz (Sea Lion Books) during the Authors & Artists Panel.  The Female Creators Panel was fascinating as Kelley Armstrong, Alisa Kwitney, Holly Black, Richelle Mead, Melissa de la Cruz, and Cassandra Clare shared some of their insights on craft and writing their intriguing series.  We had a huge group attend for the "How To Write a Comic" workshop led by Alisa Kwitney, Les Dabel, and myself.  The winner of the 'Comic Contract' was announced – Alexandra Sokoloff – and I'm looking forward to reading her comic next year!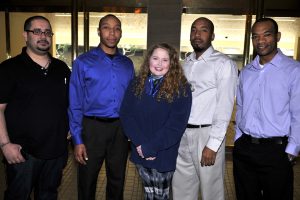 Also, I was honored to spend time with Kathryn Falk, her puppy General Patton, and Kim Lowe (S.O.S. Military Blog).  I chatted with brilliant authors Cathy Maxwell, Christina Skye, Heather Graham, and Barbara Vey (Beyond Her Book Blog).  Many more souls stand out from the pack like the group from Australia (My husband loves the dark chocolate Tim Tams.  Don't worry, I didn't tell Renee Bernard – amazing author and host of Canned Laughter and Coffee – I had them! 🙂  And, hanging out with the awesome C.H. Admirand, my agent Eric Ruben, Olivia Gates, Sheila & Ed English, Brian Feehan, and Amanda McIntyre.
The S.O.S. Military Event, organized by the wonderful Kim Lowe, brought tears to our eyes especially as Eileen Dreyer sang.
To all our military members – past, present, and future – THANK YOU FOR YOUR SERVICE.  We are grateful, and you are in our hearts and prayers.
The week passed by too quickly.  Before I knew it, I was packing my car to go home.  The RT Book Lovers Convention was a blast!  Every year I enjoy making the acquaintance of new friends and each year I relish reconnecting with the familiar ones.  Be safe, be well, and be prosperous!  See you next year…and, please stay in touch!
A question to all our BYS friends out there:  Are there individuals you only see once a year who you treasure?  Who are they, and why is he or she precious? Hooyah!