Independent Publishing Association Receives Record Number of Entries for 2011 Contest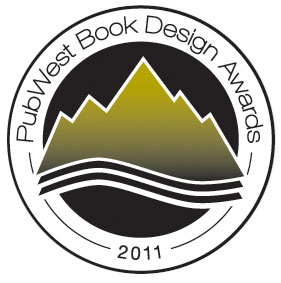 Lake Oswego, Oregon — April 21, 2011 — PubWest, the leading trade association of independent publishers, has announced the winners of its 2011 Book Design Awards contest. Recognizing excellent design and outstanding production quality of books from independent publishers, the PubWest Book Design Award contest is the longest running and most prestigious design awards contest in the independent publishing industry. The 2011 PubWest Design Awards contest received more entries than ever before in its history, judging 160 entries from 74 publishers in 20 categories on typography, jacket/cover design, interior design, format, selection of materials used, and printing and binding production quality. The list of winning titles is now available at pubwest.org.
"I was delighted with the high quality of books entered into this year's Book Design Awards contest. With a record number of entries this year, the competition was extremely intense," said program chair Julie T. Houk of the Boone and Crockett Club. "This was one of the best groups of books we've seen in recent years." Houk added, "We thank the publishers who submitted their titles. Their participation is key to allowing us opportunity to recognize the excellent design and production of today's independent book publishing industry. Browse through the list of winning titles at pubwest.org and you'll find a fascinating variety of successful designs and production qualities."
Publishers enter the PubWest Book Design Awards to showcase their strongest designs, to recognize the hard work of their editorial production staff and freelancers, and for the unique opportunity to receive critical design feedback from an expert panel of judges.
Winners will be recognized at the 2011 PubWest Conference to be held November 3-5 in Henderson, Nevada at the Green Valley Ranch Resort. For more information on the PubWest Conference program and registration, please visit pubwest.org.
PubWest is North America's leading trade association for independent publishers and related service organizations. Comprised of book publishers, printers, graphic designers, editors, binderies, and freelancers, PubWest offers a community of the most dynamic and  innovative professionals in book publishing. Please learn more about PubWest at pubwest.org.
Click 2011 Winners list FINAL for a PDF list of the winners.