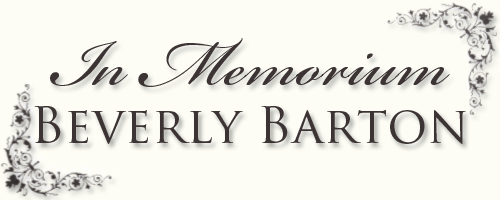 Beverly Barton,  a New York Times bestselling author, sending chills up your spine and thrills down to your toes with her exhilarating collection of romance and romantic suspense books.t, died suddenly Thursday (4/21/2011) of heart failure. She was 64.
We, at Readers Entertainment Community, want to express our condolences to Beverly's friends and family at the passing of this wonderful lady.
Beverly was a sixth generation Alabamian who writes mainstream romantic suspense for Kensington. She was also a wife, mother and grandmother. People who knew her well would tell you that her family was more important to her than anything in the world. She was fortunate to have a cousin who was like a sister to her and was blessed with a handful of close friends, whom she referred to as her "bosom buddies." Beverly said, "I wouldn't know what to do without these great gals who give me encouragement, support, advice, love and lots of laughs."
Beverly was born in Alabama, where her parents lived on her paternal grandmother's ancestral home place, a farm that is still owned by a member of the family. Her upbringing was divided between Tuscumbia and Barton, Alabama and Chattanooga, Tennessee. She graduated high school from Chattanooga Central and then attended college at the University of North Alabama. Beverly married young and traveled briefly with her husband, who served in the navy in the mid-to-late sixties. After her husband decided against a military career, they settled back in their home state of Alabama and started a family. She was "in my element" as a stay-at-home mother and she could truthfully say that she loved every moment of motherhood. She enjoyed her children as babies, as toddlers, grade-schoolers, teenagers and as adults.
Their children are both adults with successful lives and good marriages. Beverly always wanted four children and when her two kids married fabulous people, she finally got that second daughter and son. She had two handsome, brilliant grandsons, who brought tremendous joy into her growing-older world, as did her beautiful and brilliant granddaughter, a toddler who was helping her, once again, see the world through a child's eyes.
Beverly sold her fist book in 1989 and it was released as a July 1990 Silhouette Desire. YANKEE LOVER was set in her hometown of Tuscumbia, Alabama, during the annual Helen Keller Festival. Since that first sale, she's written over seventy books for Silhouette and Kensington. Her first mainstream romantic suspense, AFTER DARK, was released in December 2000 under the Zebra imprint for Kensington. In the past twenty years, she had gone from being one of the "new kids on the block" to one of the "old pros."
On Facebook, Beverly's friends and fans have posted their condolences of this great Southern lady's passing.
Gail Melton wrote, "I have been reading Beverly's work since 1990s, my very frist of her work was also her frist published, Yankee Lover. I was deeply saddened by her death, A wonderful Southern Lady. My deepest sympathy to her Husband, children and grandchildren."
From Kim Dunn Gillum, "My heart and prayers go out to all who loved Beverly. She was an amazing author! I still have her many books to read in my library. Beverly will be sadly missed but fondly remembered. RIP, Beverly."
"I am so shocked and saddened to hear the news of Beverly's passing, in fact I am in the middle of reading Beverly's book "Close Enough to Kill" I am praying for Beverly's family and friends. RIP Beverly Barton," write Debra Nowicki Harshbarger.
Betty Ivy posts, "Sorry to hear about Beverly. I have been reading her books since Yankee Lover. Her first book. I still have the book. I will miss her very much. Prayers go to her family and friends."
Many more posts can be found on Beverly's Facebook Fan Page.
Beverly's latest book, Dead By Morning, will be released on Tuesday, April 26th through Kensington Publishing Corporation.  Below is a synopsis of the book:
The Darkest Sins
He begins his work just before dawn, wielding a knife with the precision of a surgeon. Cunning and meticulous, he's always in control. Mercy is not an option. . .
Will Always
Maleah Purdue is tough, outspoken, and completely dedicated to her work at the Powell Security Agency. But her fearless exterior shatters when a madman begins killing her colleagues one by one, mimicking a notorious serial killer already behind bars. Working alongside top profiler Derek Lawrence, Maleah will do anything to find the murderer, even if it means playing a psychopath's twisted mind games.
Come To Light
No one connected to the Agency is safe. No one is beyond suspicion. For as Maleah and Derek piece together the clues, they uncover a chilling legacy of lies and brutal vengeance—and a killer who has been hiding in plain sight all along. . .
Please feel free to leave your condolences here for a great lady, Beverly Barton.