Each year, at the RT Booklovers Convention, a mixer is held to benefit S.O.S. (Support Our Soldiers) America. This year, Behind the Mask donated a print of Captain America – Never Forget by Terry Huddleston. I was unable to attend the mixer, but S.O.S. blogger Kim Adams Lowe filled me in on the details of the S.O.S. Mixer at the RT Booklovers Convention in Los Angeles, California.
The print was awarded to SSG Canaan J. Wiseman, better known to the RT community as Jesse, in honor of his service, to our country, to his wife Maggie, and to the convention. Jesse and Maggie were married in February 1999 and then both enlisted in the U.S. Army in September of that year. Maggie served two
years as a Nuclear/Biological/Chemical Specialist working around all the things we really wish we could un-invent. During their deployment to Kosovo in 2000, she was injured and subsequently medically retired. Maggie traded her dog tags for diaper bags as they began their family. She is now a published author, writing under the name K.C. Sehlhorst.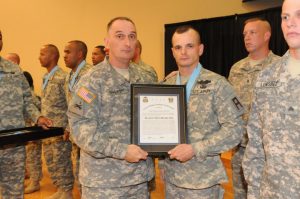 Jesse is still active duty and has served for 11 years as an Infantryman.  He is a Staff Sergeant and a graduate of Warrior Leader's Course, Combat Lifesaver Course, Advanced Leader's Course, Hazardous Materials Safety Course, Airborne School, Combatives Level 1, and the Observer/Controller Academy. In addition to the Kosovo deployment, he has been deployed to Iraq on three occasions in 2003, 2005, and 2007. He was recently inducted into the Sergeant Audie Murphy Club, named for the most decorated American soldier of all time. Jesse is currently stationed at the Fort Bliss McGregor Range Complex in El Paso, Texas, where he serves as an instructor for Weapons Marksmanship and Urban Combat.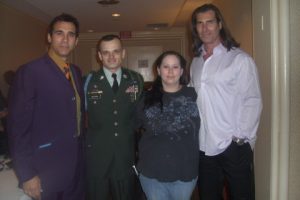 Jesse and Maggie have four children ranging in age from 5 months to 7 years. Jesse is very supportive of Maggie's writing career, so much so that he has accompanied her to the RT Booklovers Convention since 2008. Each year they give of their time and energy to help make the convention run smoothly.  Jesse can often be found standing guard over the many tables filled with free books in the RT "Goodie" Room. Additionally, Maggie takes book donations from RT and distributes them to the military families stationed at Fort Bliss.
Please join me in a heartfelt "Thank You!" to SSG Wiseman, his wife Maggie, and to all the members of our Armed Forces and their families who sacrifice so much to protect our freedoms.  Never Forget.