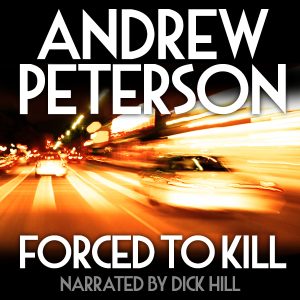 Bravery. Honor. Sacrifice. These are more than mere words to former Marine sniper Nathan McBride. He's never backed away from danger, and he's not about to start now, even if it means confronting the cold-blooded interrogator who tortured him to the brink of death more than a decade ago.
When a mutilated body is discovered in a remote Utah lake, it ignites a chain of events that forces Nathan to face a dark chapter from a past he's worked hard to forget. Could his Nicaraguan enemy be active again? On American soil? The evidence is clear, but the stakes are higher than Nathan can know. In a showdown that will test Nathan's understanding of justice and mercy, he'll have to make a life or death decision that has the potential to expose and destroy people at the highest levels of government.
© 2011 Andrew Peterson (P)2011 Audible, Inc.
What are readers saying about Forced to Kill?

FIVE STARS!

I have read an "advance" of this story and it is just as good, if not better than Peterson's previous work, First to Kill. Now listening to Dick Hill read this sequel, he brings to life Nathan's next adventure. Especially notable, Mr. Hill's voice of the "bad guy" is not only eerie, but very believable. Cheers to Mr. Peterson for providing another fast pace and exciting story with memorable characters and a realistic plot!  Carla (Bradley, CA, United States)
To download YOUR Audible copy of Forced to Kill, click on the appropriate device for directions.
Win 7 Mobile Devices are currently unsupported
What is Audible? <– in addition to showing the steps to getting started, initiates an optional chat with an Audible Rep for assistance.