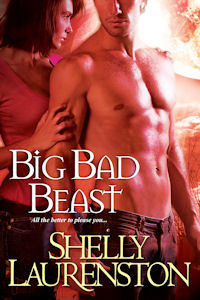 Big Bad Beast
When it comes to following her instincts, former Marine Dee-Ann Smith never holds back. And this deadly member of a shifter protection group will do anything to prove one of her own kind is having hybrids captured for dogfights. Trouble is, her too-cute rich-boy boss Ric Van Holtz insists on helping out. And his crazy-like-a-fox smarts and charming persistence are making it real hard for Dee to keep her heart safe…
Ric can't believe his luck. He's wanted this fiercely-independent she-wolf from day one, but he never expected teamwork as explosive as this. And now is his last chance to show Dee what she needs isn't some in-your-face Alpha male-but a wily, resourceful wolf who'll always have her back in a fight…and between the sheets.
Sign up for the  BIG BAD BEAST
contest on Fresh Fiction!
About Shelly Laurenston
Originally from Long Island, New York, New York Times and USA Today bestselling author Shelly Laurenston has resigned herself to West Coast living which involves healthy food, mostly sunny days, and lots of guys not wearing shirts when they really should be. Shelly Laurenston is also The New York Times Bestselling author G.A. Aiken, creator of the Dragon Kin series. For more info on G.A.'s dangerously and arrogantly sexy dragons, check out her website at www.gaaiken.com.
Presented by: