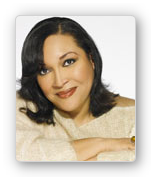 Okay, if you aren't a fan of L.A. Banks / Leslie Esdaile Banks, I hope you will be before the end of this note.  Because besides being a phenomenally talented writer, she's also one of those genuinely phenomenal human beings that make you just want to be in her sphere.
When I first saw her, she was standing in a hallway and several fans were crowding around to talk to her.  She was one of the most beautiful and striking women I'd ever seen.  I was newly published at the time, and a bit awestruck to see what had to be a "big star" by the looks of her readers and their boundless enthusiasm.  I was a curious bystander to see how it would all unfold.  I'd seen a few big names demonstrate the weave and dodge.  Would she distance herself? Would she wave them off and try to escape?
Nope.
She embraced every one of them, shook hands, asked questions about them and laughed as if they were her nearest and dearest.  She apologized for arriving late from the airport and exhausted as she was, she didn't hurry.  Not even a little…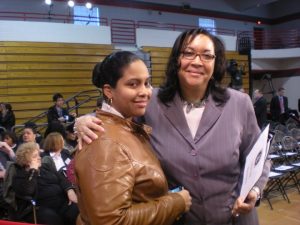 I was her newest fan from that moment.  Then I found out the rest.  NY Times Bestselling author and every accolade you could think of.  Which made that interlude in the hallway even more impressive.  And yours truly more than a little intimidated.
So when a few hours later, I was coincidentally near the lady again and overheard her saying that it was her first RT and she had nothing to wear to the party that night—I introduced myself and offered to loan her something if she wanted to dress up.  She laughed, a sweet unbridled laugh, that said it all.   After all, I had to tip my head back to look up at her to make the offer.  (I am overtly average in height, while Leslie is a gorgeous Amazon.)  She thanked me and tried to help me out of a generous predicament but I stuck to my guns.  It turns out, I had the perfect outfit and jewelry for her and it was a true thrill to play Fairy Godmother and transform her into Cleopatra.
At the booksigning, she had a steady crowd of readers and I don't think she put her pen down once.  But again, every single person was greeted as warmly as family, rewarded with a smile and genuine interest in them and the books they liked or how they were faring. She was a star, in every wonderful sense of the word, and I decided that if I ever "made it big", that L.A. Banks would be my guiding light and role model.
We became friends.  We corresponded and commiserated over ups and downs.  She always made me feel special and spoke to me as an equal (which was miraculous.) But every year, I looked forward to seeing her.  And to that laugh.  You could pick her out of a room filled with a thousand people with that laugh.
So, word has reached us that Leslie is gravely ill.   This Tuesday at 8:30pm EST, June 14th, "Canned Laughter and Coffee", will be all about Leslie and our efforts to rally the romance community to help her. Without medical insurance, we all know how daunting it can be.  We want to make sure that Leslie and her family aren't worrying about anything but  taking care of Leslie.  PLEASE join us if you can for the program at www.readersentertainment.tv/radio to hear about how you can help, and participate in the online benefit auction we're having for her at www.labanksauction.org .  (The auction opens June 21st and will go for one month only!!!)
Readers, writers, professionals in the publishing industry and anyone in this crazy universe of romance that we all share—thank you for stepping up and doing whatever you can for L.A. Banks and for proving that no matter what comes our way, we stand together when it counts.