I attended several informative breakout sessions hosted by BlogWorld & New Media Expo at the BookExpo America event. Sessions discussing blogging, social media, and how to make the most of your time were among the many to choose from.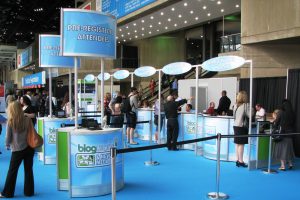 Dominate Your Niche with Social SEO for Blogs was presented by Lee Odden. Odden spoke about writing with a purpose, knowing your audience, and being specific.  Quantity, quality, content, links, and social media are on Odden's list of important qualities in creating a successful blog.
Columbia Journalism School Dean of Student Affairs, Sree Sreenivasan spoke about Social Media for Journalists. With social media, Sree states, that you can find new ideas, trends, and sources, connect with readers in new ways, bring attention to your work, and enhance your brand. Check out the Sree Tips for building a successful Twitter campaign, blogs, FaceBook pages and more! Follow Sree on Twitter @sreenet.
All the sessions were jam packed with valuable information and I have plenty to study up on! But the session I think I need the most was presented by Jeremy Caplan, entitiled: Do More with Less – How Journalists can Overcome Information Overload. Caplan offered 36 tools, tips, and sites for digital efficiency. In the fast paced world we live in, time seems to be at a constant premium. Caplan suggests establishing systems and implementing tools to help keep you organized, clutter free, and on time without feeling overwhelmed. Keeping things simple and finding the systems that work best for you is a great way to track your time, organize your calendar, and keep you focused. Keeping your inbox empty by using filters or folders, for instance, is a great way to stay organized. Programs like Toodledo and Toggl keep you on task and track your time. Dejal Time Out is a tool that will pop up across your computer screen signaling when it's time to take a break! Many more tools such as these are available to keep you on task and organized.  Search the web for the ones that work best for you! Follow Jeremy on Twitter @jeremycaplan.
The best-laid plans, as they say, may often go awry, but finding the best tools for saving time, being creative with a purpose, and using social media to enhance your writing are all great beginnings to establish a niche in the market. I think I'll start today!