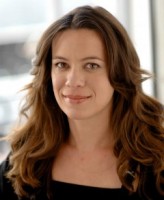 SARA GRAN is the author of two critically acclaimed novels, Come Closer, a psychological thriller hailed as "hypnotic, disturbing . . . Genuinely scary" (Bret Easton Ellis), and Dope, a noir homage. A former bookseller and native of Brooklyn, she now lives in Northern California.
Sara's latest release is "Claire DeWitt and the City of the Dead and has received fantastic reviews!  So check out what others are saying about this delightful book:
"Not your mother's girl detective, Claire DeWitt is a cool blend of Nancy Drew and Sid Vicious. With Claire DeWitt and the City of the Dead, Sara Gran has pulled the traditional female sleuth into the twenty-first century with a novel that's smart and hip, dark and funny. I can't wait for the next one." – Alafair Burke, author of LONG GONE
"If there isn't yet a subgenre called funky noir, this wacky PI novel could be a fragrant first…lots of fun."–Booklist
Claire DeWitt is not your average private investigator. She has brilliant deductive skills and is an ace at discovering evidence. But Claire also uses her dreams, omens, and mind-expanding herbs to help her solve mysteries, and relies on Détection — the only book published by the late, great, and mysterious French detective Jacques Silette.

The tattooed, pot-smoking Claire has just arrived in post-Katrina New Orleans, the city she's avoided since her mentor, Silette's student Constance Darling, was murdered there. Claire is investigating the disappearance of Vic Willing, a prosecutor known for winning convictions in a homicide- plagued city. Has an angry criminal enacted revenge on Vic? Or did he use the storm as a means to disappear? Claire follows the clues, finding old friends and making new enemies — foremost among them Andray Fairview, a young gang member who just might hold the key to the mystery.

Littered with memories of Claire's years as a girl detective in 1980s Brooklyn, Claire DeWitt and the City of the Dead is a knockout start to a bracingly original new series.