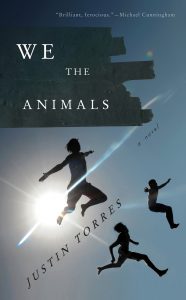 We the Animals is a coming-of-age story like nothing I've ever read before. It is sometimes shocking, sometimes funny, heartwarming and maybe even a little scary because of how it affects you on such a personal level.
Three boys, raising hell in Brooklyn, following in the footsteps of passionate parents, doing everything they can think of, making chaos, loving fiercely.
It almost felt like I was a peeping-Tom into the window of someone's very private family life. Sometimes I wondered what motivated them, then that was answered in the next breath as they held tight to each other.
The book is not very long. You can easily read it in a day. Don't think you can skim it though because it is too emotionally electrifying to be able to just skim over pages. Every page is important. Every word.
I found this video http://youtu.be/DnAw_Q6_W_I on YouTube that talks about the story, but what I really love is this author interview I found on the publisher's site- http://www.houghtonmifflinbooks.com/catalog/titledetail.cfm?titleNumber=1458438 You have to wonder how much of this is auto-biographical. Justin Torres seems charming and full of life and perhaps a little innocent.
This book is for anyone who wants to be challenged to think about family ties and how our early years affect us.